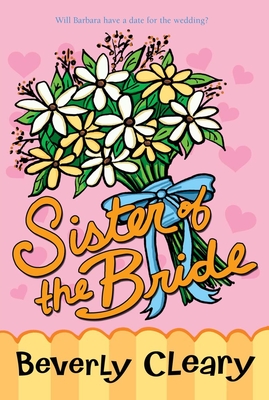 Sister of the Bride, Beverly Cleary, HarperCollins Publishers, 1963, 297 pp
My reading this year seems to go in pendulum swings from the horrific to the sublime. After the punch in the solar plexus that was
The Power
, I went to this sweet story of two sisters in the early 1960s, one of whom (Rosemary) has just gotten engaged and the other (Barbara) who is a junior in high school trying to find a boyfriend.
I loved Beverly Cleary's
The Luckiest Girl
when I was in middle school. That was the book that started my dream of living in California and even gave me some decent pointers about boys and romance that helped me get through high school. Somehow I missed Judy Blume back then and boy could I have used her books, so Cleary had to be my mentor.
Because this book was published in 1963 and because Cleary always had a sharp eye, it is actually pretty hip. Rosemary is in college at what seems to be Berkley and has strong ideas about being a woman. Though she is determined to marry her somewhat older boyfriend, she is just as determined to finish college and have her own career.
This is however Barbara's story. She dreams of being a bridesmaid. As she watches all the drama in her family around her parents accepting the idea of the marriage and her sister's grownup ideas, she also navigates between two boys who seem to like her. She feels increasingly left out of the wedding plans. She misses her former close relationship with Rosemary. Oh my, it is all so real and portrayed with the author's generous sense of humor and compassion for kids.
Of course it feels quite outdated now. There is not a hint of sex, except when Barbara's little brother teases her about kissing one of the two boys. But those two sisters are wonderful examples of what we were dealing with in those years. The story has a happy, happy ending.