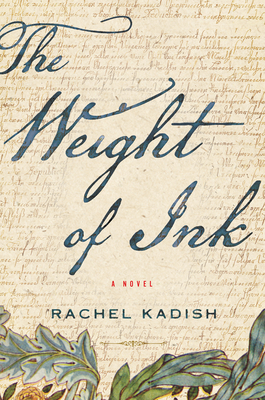 The Weight of Ink, Rachel Kadish, Houghton Mifflin Harcourt, 2017, 560 pp
This long and complex novel was so much my kind of book; possibly one of the best novels I have ever read. It demands quite a bit of the reader as well as an interest in philosophy. It is one of those stories about intelligent women who just cannot stay in the roles expected of her by society and religion. Set in two time periods, it features a connection across centuries between two specific women. The setting is London in the early 21st century and in the 1600s.
Helen Watt is in her 60s, slowly losing to Parkinson's Disease and a top historian teaching at the university level. When a former student contacts her regarding some 17th century Jewish documents he discovered while renovating his home, Helen finds the kind of thing that can make a historian's career. Due to her health and university politics, she begins a race against time.
The documents include writings by Ester Velasquez, an emigrant to London from Amsterdam. She was an orphan taken in by a rabbi who, blind, and poor, had no scribe to help him. Ester was thus permitted to scribe for him, something women never did back then. The rabbi was a survivor of the Spanish Inquisition who escaped to Amsterdam and had then been sent to London by his temple with the assignment to help the fledgling Jewish community there, as Jews were newly allowed back into Great Britain.
Ester has a background full of loss and confusion. She is comforted by her access to the rabbi's books and spends all of her free time studying while she learns her way around London. Within a few years the Plague and the Great Fire of London will decimate the city and she will be on her own again.
The novel fairly reeks with history. Both Helen and Ester long for philosophical and historical understanding, while men and romance only create problems for them. They each desire to live in their minds unmolested; longing vs self-preservation are the emotional bedrock of the story in both of their lives.
Then there is the Spinoza connection. I am no expert on philosophy but rather am a self-taught dilettante in the subject. From the reading I have done, Spinoza is my favorite philosopher. Due to Ester's position as a scribe she is able, surreptitiously, to strike up a correspondence with Spinoza, posing as a man. They engage in epistolary discussions about Spinoza's ideas, thereby providing the poor banished Jew with friendship and a sounding board for his wildly heretical thinking. I realize this might not be every reader's cup of tea but it was complete joy to me.
Much more goes on in the story but I think it is best to let other readers discover it on their own. Discovery is another theme in the book actually. If you are someone who has spent time pondering the meaning of life and questioning all you have been taught, there are riches awaiting you in The Weight of Ink.
I read and discussed the book for and with one of my reading groups. Of the eight members, six are Jewish, though not all are practicing. One of us was raised Protestant, one Catholic. Oh what a great discussion we had!
Personally I had an experience of enlightenment as I read but I think that belongs in my autobiography rather than a book review. I only mention it as evidence of how powerful a book this is.