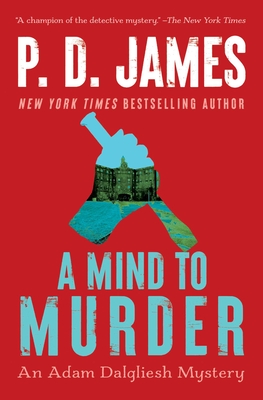 A Mind to Murder, P D James, Random House, 1963, 256 pp
P D James's second Adam Dalgliesh mystery was published in 1963 and so is on the 1963 list for My Big Fat Reading Project. Only three weeks earlier I had read Sylvia Plath's
The Bell Jar
, making it a bit of a shock (pun intended) to open
A Mind to Murder
and find it set in a London psychiatric clinic. In between the electric shock and LSD treatments as well as psychiatric "talk therapy" sessions, the administrator of the clinic is murdered in the basement amid a confusion of scattered patient files.
This reader's personal tastes were confirmed: P D James is hands down a superior mystery writer to Agatha Christie. (I know there are many readers who would not agree with me, but it is what it is.) Right out of the gate she sets up the rivalries and tension between the various therapists, the nurses and secretaries, and the victim. Miss Bolam had been nearly universally disliked by all the staff, giving Inspector Dalgliesh a knotty problem as he tried to single out the suspects. Every doctor had an alibi while the rest had some issue with their boss.
As the investigation proceeds, Ms James also writes scenes with the various characters interacting while not in the Inspector's presence. Quite soon the reader comes to know all these people and what is going on in their personal lives. I felt like I was doing my own work to figure out who done it and that made the reading even more enjoyable.
In the end however, it was Inspector Dalgliesh who found the correct line of criminal activity to follow and solved the crime in an intense series of time sensitive incidents. My only complaint was that I could not figure out what led him to follow up that particular line of inquiry and suddenly felt left out of the story where previously I had thought I was part of it.
A breach of patient confidentiality was the initial cause of events leading to the murder. That issue as well as the conflicts of opinion among the doctors about various approaches to treating mental illness, made the story resonate with current times even though it was written over 60 years ago.
The first P D James novel I read was
Children of Men
and I was struck by her intelligence, her insight into her characters, and her sense of social consciousness. Now that I have gone back to read her earlier books I am hooked and look forward to more of them.