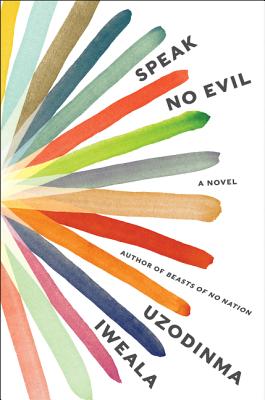 Speak No Evil, Uzodima Iweala, HarperCollins, 2018, 152 pp
What is it with human beings always trying to fix each other and make us all the same so we fit into a box of being and looking the "right" way? The latest example that keeps coming up on my radar is gay conversion therapy. Not that this is a new human endeavor. It just keeps coming up.
I recently saw the movie, The Miseducation of Cameron Post. Cameron, a teenage girl who is attracted to girls, gets sent to a gay conversion camp run by religious people. Camp is bad enough but Gay Conversion Christian Camp? What could be worse?
Speak No Evil revolves around the teenage son of Nigerian immigrants in Washington, DC and the white girl who is in love with him. When Niru becomes aware of his sexual orientation (gay), his father drags him back to Nigeria to the village church where he is prayed over so he can cast the evil from himself. That scene is like a compressed version of the one in James Baldwin's Go Tell It On the Mountain.
Of course, Niru is not cured. He just has to go underground while still living at home. When Meredith realizes why Niru does not return her advances, she flips and supports, even encourages, his inclinations because first and foremost they are best friends. Tragedy ensues. Nearly everyone in the novel is destroyed in some way.
This is a powerful novel, full of surprises that creep up on the reader. I finished it almost a week ago and it took me all this time to figure out what it meant to me. I still don't have it all figured out, except that it behooves no one to play God.
(
Speak No Evil
is available in hardcover by order from
Once Upon A Time Bookstore
. The paperback will be published on March 5, 2019 and is available for pre-order.)