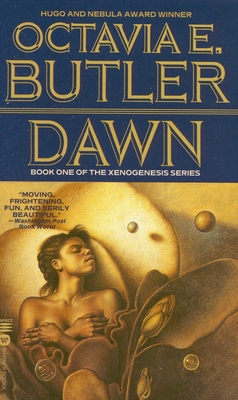 Dawn, Octavia E Butler, Warner Books, 1987, 248 pp
This was my first time reading Octavia Butler and I found it a great experience. I have been meaning to read her for years. Instead of starting with her first book, I read what I had on my bookshelves.
Dawn is the first in a series she wrote in the late 1980s. The series was originally called the Xenogenisis Trilogy but at some point became called Lilith's Brood.
Lilith Iyapo awakens in a dim room, alone. She has awoken there before on a solid platform that seems to grow from the floor. She does not know where she is, only that she is still confined. This time she finds an alien creature in the room with her. She is completely repulsed by it and frightened out of what wits remain to her.
Gradually Lilith and the reader learn she is on an alien spaceship. There had been a nuclear war on Earth that nearly destroyed all humans. The Oankali are powerful beings who plan to rescue the dying planet by merging genetically with the few humans they recovered.
Lilith is an amazing character, a Black woman from somewhere in the Andes who was attending college when the apocalypse occurred. Now it is centuries later, Earth has become habitable again and the Oankali are wakening the humans. They make Lilith the leader of other earthlings on the ship. What an unruly bunch they are, who test Lilith every step of the way. She is tasked with training them to survive in a feral rain forest where they will live when they are sent back.
Each character, whether human or alien, is fully developed and the conflicts between them make for gripping reading. The humans are as diverse as anything we are dealing with in the present. The Oankali also have their issues. Butler's world-building is beyond impressive though she never lets it overwhelm the story.
I was put in mind of N K Jemisin's Broken Earth Trilogy many times as I read. Octavia Butler was the first Black female science fiction writer to win recognition. I would bet she inspired Jemisin. Now I plan to read all of her books, soon!