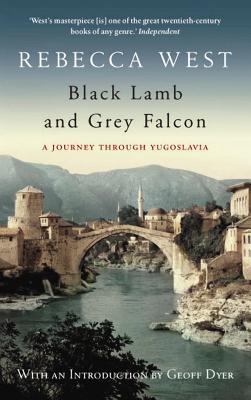 Black Lamb and Grey Falcon, A Journey Through Yugoslavia, Rebecca West, The Viking Press, 1941, 1150 pp
I am well aware that this book will not be for everyone but I wanted to have a record of my thoughts on it here on the blog. Finishing this book has been my greatest reading accomplishment so far this year. I had attempted to read it twice before but bogged down early both times. Last July I tried again, looked up all the words I didn't know, studied maps and took notes. I set myself a minimal pace of 5 pages at a sitting and 11 months later I finished!
Rebecca West was an infamously successful journalist, political writer, novelist and feminist from 1911 until her death in 1983. I came to her through one of her novels,
The Fountain Overflows
, one of my favorite novels ever. I first learned about
Black Lamb and Grey Falcon
in the days of the Bosnian War, a conflict I could never understand no matter how much news I read. It turns out I needed the history of the Balkans and West's book gave that and much more.
She made two extended trips through Yugoslavia, an area also known as the Balkans throughout history. When she visited in 1937 and 1938, the area was a cobbled together country created after WWI at the Paris Peace Conference. Her book follows the second journey taken with her husband.
Beginning in Croatia, they continued through Dalmatia, Herzegovina, Bosnia, Serbia, Macedonia and Montenegro. These were the countries that made up Yugoslavia at the time. They visited major cities as well as villages and historic sites. If that sounds like a lot to take in, it was for both Ms West and myself.
One of my followers here found the writing style unlikable. She does revel in long sentences, detailed descriptions and somewhat flowery, emotional reactions to what she sees and how she feels about it all. I did not mind that too much. What else would one expect from someone raised on Shakespeare and Dickens?
Whenever I looked up images of the mountains, valleys, cathedrals and monasteries she described, they looked exactly as she had written about them! Her accounts about the people she met brought them to life as would a novelist with her characters.
When she returned to England in 1938, Hitler was on the rise. She had no doubt that another World War was about to begin. She spent the next few years enlarging her already vast knowledge of the history of those countries, from Roman times, through the Byzantine Empire, the conquering Turks, the Austro-Hungarian Empire, the debacle that was WWI, and the arrival of communism from Russia. I can't imagine anyone besides a life long historian being able to encompass so much.
Finally she put it all together into Black Lamb and Grey Falcon, two images that recur over and over in the book. She created her perspective on the historical precedents and causes of what by the time of publication was WWII. When I finished the book, even though I had not read an article on the Serbian War or the Kosovo War for over 20 years, it suddenly all made sense to me.
I don't recommend this tome to everyone. But, if you like to study history, if you have read widely in historical fiction, or you just have an unquenchable desire to understand European history, you might make it through and gain new insights.
Rebecca West was a liberal, a feminist, a humanist thinker, and I can't imagine anyone agreeing wholeheartedly with her politically in 2020. Still, Black Lamb and Grey Falcon is a huge contribution to historical and political thought.
If you made it through to the end of my attempt to write about this incredible book, you should do fine with Rebecca West, who towered over me in writing and thinking ability.