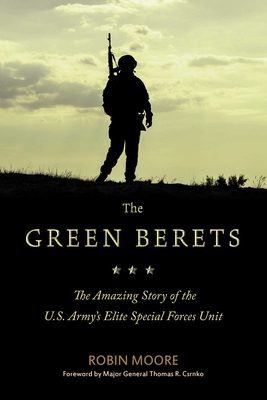 The Green Berets, Robin Moore, Crown Publishers, 1965, 430 pp
The #5 bestseller in 1965 was a tough read for me. In 1965, I graduated from high school. By 1967, I was a full-blown protester against the Vietnam War. When I started My Big Fat Reading Project, reading books from the 1940s, I found many antiwar sentiments alongside books about, and even glorifying, war.
For decades I embraced pacifism. Now in my 70s, I realize that pacifism is a fine ideal but does not work out in real life. All the way from what would you do if someone was trying to destroy a loved one to what if some country is trying to destroy your own. I have also espoused non-violence but observed that eventually most oppressed humans resort to violence.
Robin Moore was a journalist who got permission to train as a Green Beret and then imbed himself with these Special Forces units in Vietnam to get first hand information on how and why they practiced guerilla warfare. He turned those experiences into fictional stories about some of the operations. According to him, JFK wholeheartedly backed the endeavor, including CIA involvement in some of the operations. The idea grew out of the realization that for Western nations to fight communism in the far east, it appeared impossible to win by conventional military manuevers.
Having read the book, mainly loathing it the whole way, I understand those pressures better. I also learned how the US Military was at war with itself over these new approaches and how some of the top generals actually sabotaged the Special Forces. I felt fortunate to have read
The Sympathizer
by Viet Thanh Nguyen, in which I got the story of the conflicts within the Vietnamese governments.
Fast forward to the present when the art of war has become even more complex. I don't need to explain. Just read the news.
I still believe that war is not the answer to human problems though it sure seems that to many it is just accepted as the way things are. I don't mean to discount the bravery, patriotism and commitment of soldiers but I do condemn the huge loss of human lives as the price we pay.
I really do wonder, if any entity could do a correct poll or survey, what the majority of human beings think about the necessity or inevitability of war. What do you think?
Now we are fighting another war against little invisible things called viruses. War news has suddenly become almost absent but it is for sure war and human beings are not united in this war either. Of course there are plenty of courageous and dedicated individuals doing all they can to save lives, to do the right things concerning the spread of the virus; there are officials taking appropriate steps to protect lives. We will get through it somehow but again the result is huge losses.
I am sorry if this post brings you down. I pondered whether or not I should enter this review into the conversation today. Still, this could be a time for us to dedicate ourselves to becoming more educated and responsible for our fellow man, to consider alternatives to the past and what we as individuals, families, groups, can do for each other and our planet. Out of suffering and mistakes and destruction can come new understandings and intelligence and bright ideas.
Keep the wisdom!