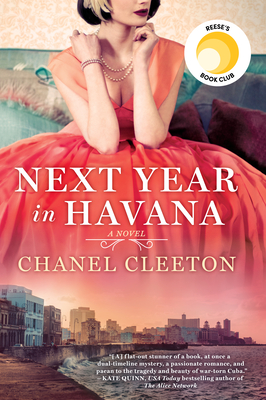 Next Year in Havana, Chanel Cleeton, Berkley, 2018, 356 pp
I proposed this novel to one of my reading groups. It turned out to be more in the romance genre than I expected but that is OK. The particular group in question includes several very busy people who also try to get each book read and I like to suggest books that will make their reading efforts pleasurable as well as informative. We have read other books set in Cuba and they have gone over well. This one was no exception.
Despite the heavy romantic hand of Chanel Cleeton, she wrote a book that taught me a great deal about what Castro's revolution was like for the many levels of society in Havana and what are the effects that still linger today. Once again, a revolution intended to bring about a more equitable society turned into another oppressive regime because revolutionary leaders often have little to no experience in governance and because power almost always corrupts.
Marisol Ferrera is the great granddaughter of a wealthy Cuban family who decided to flee when Castro ousted Batista. The family's successful sugar business and their opulent lifestyle were in great danger. Because of generations of experience, the family was able to recreated their wealth in Miami.
Marisol grew up hearing romantic stories of Cuba from her grandmother. When she died with a deathbed wish to have her ashes scattered in Cuba, Marisol went to fulfill that wish.
As a journalist she got into Cuba with a limited visa to do an article on tourism in the country. While she was there discovering her roots she also fell into a relationship with a political dissident, the grandson of her grandmother's former best friend. Being an innocent and naive Cuban/American, Marisol had no idea that she might be under surveillance or that the political climate in Cuba was as volatile as ever.
She also learns all of grandmother's secrets, including the true identity of her father but in the end must make a desperate escape with her new lover in tow.
It was an engrossing and exciting read along the lines of The Nightingale by Kristin Hannah. While the writing was not truly great, there are not many political romances set in Cuba.