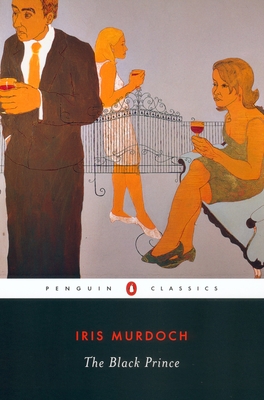 The Black Prince, Iris Murdoch, The Viking Press, 1973, 408 pp
Summary from Goodreads:
Bradley Pearson, an unsuccessful novelist in his late fifties, has finally left his dull office job as an Inspector of Taxes. Bradley hopes to retire to the country, but predatory friends and relations dash his hopes of a peaceful retirement. He is tormented by his melancholic sister, who has decided to come live with him; his ex-wife, who has infuriating hopes of redeeming the past; her delinquent brother, who wants money and emotional confrontations; and Bradley's friend and rival, Arnold Baffin, a younger, deplorably more successful author of commercial fiction. The ever-mounting action includes marital cross-purposes, seduction, suicide, abduction, romantic idylls, murder, and due process of law. Bradley tries to escape from it all but fails, leading to a violent climax and a coda that casts shifting perspectives on all that has preceded.
My Review:
I am a big fan of Iris Murdoch and this is the eighth novel of hers I have read. For the first time I had some problems with Ms Murdoch. Part of the trouble may be that I have been reading her novels in order of publication and The Black Prince came out nine years and seven novels later than the last novel of hers I read. Obviously an author is going to develop and change over nine years, but I did not get to experience those changes in a gradual way. I read this one now due to it being a reading group pick.
I am familiar with her usual concerns: love, infidelity, religion and philosophy. All are present in The Black Prince. I am accustomed to the somewhat madcap nature of her plots and this novel's plot begins with the protagonist getting a phone call from his friend/enemy Arnold Baffin, who says, "Bradley, could you come around here please, I think that I have just killed my wife."
Two aspects bothered me the most: structure and heavy-handed philosophizing through the voice of Bradley. Iris Murdoch was first and foremost a philosopher who studied and taught at Oxford, though she put her ideas mostly into her 26 novels.
In the early novels I have read, the philosophical content had been seamlessly melded with the characters, dialogue and plot. In this one, though that form is still employed, there are also long asides during which Bradley expounds on his own character, emotions, and intellectual ideas, completely disrupting and sometimes derailing the plot. While I get the allusions to the black prince made immortal in Shakespeare's Hamlet, I found this so annoying, actually quite disconcerting as a reader.
Despite all my whining, I confess that I read the final two thirds of the book in one day so I can only surmise that Murdoch hooked me in the end. Once I figured out that Bradley was just about the ultimate unreliable narrator, I got the joke. I wanted to see where she would take the story, I got used to having the fiction "dream state" shattered over and over, and came limping to the finish line where, for a final time, my ideas about the story were wrenched and rearranged.
At this moment, I can't really recommend the book, except to Murdoch diehards. Who knows though? I may feel differently after I fill in the missed novels.
In a bizarre and completely unexpected turn of events, I arrived at the reading group meeting to learn that the man who had recommended the book for our discussion had passed away that morning! We mourned him and the fact that he was not there to explain the book to us.