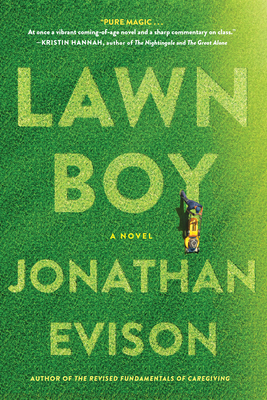 Lawn Boy, Jonathan Evison, Algonquin Books, 2018, 310 pp
I have been a fan of Jonathan Evison since I read his first novel,
All About Lulu
, published in 2008. I have read all of his four previous novels, I have been to all of his author appearances in Los Angeles except for the one he made this year at the LA Times Festival of Books. I loved his second and third books (
West of Here
and
The Revised Fundamentals of Caregiving
.) His last novel,
This is Your Life, Harriet Chance!
, was a letdown for me, so much so that I did not post my review of it on the blog.
In his latest, Lawn Boy, he tells the story of Mike Munoz, a Mexican/American young man living on the edge of poverty in a small town outside of Seattle. Mike lives with his mother and his mentally challenged brother, while working as a lawn boy on a landscaping crew. He is in his early 20s and is fully aware of his life being a stereotype.
As a human being he is pretty normal. Despite his lowly existence he reads fiction. In fact, fiction is his primary escape and he even dreams of writing the Great American Landscaping Novel. He has a passion and great talent for creating shrub sculptures. He has no luck at all with women. Finally his expertise at doing stupid things that derail his life is epic.
I had some issues with this novel, some of the same ones as I did with Harriet Chance, although I ended up loving the book. The main issue was the voice of Mike Munoz. Since the novel is told entirely in first person, there is no getting away from that voice. Munoz repeats himself continually, he over thinks every little thing. For me he was a somewhat unconvincing construct of a tough but innocent guy.
But what do I know? I am a white, Anglo-Saxon, late middle-aged woman. I have no clue what it is like to be Mike Munoz. I have a little bit of experience with class-conscious, low income problems due to my own stupid turns in life. I have a Mexican lawn boy of my own who tells me stories about his life if I lend him my ear.
Jonathan Evison has experience with many of Mike Munoz's problems so I should just trust him that a half Hispanic man raised by a hard working single mom could talk like that and still be ultimately saved by reading books.
I feel like I know the author somewhat because I have read all his novels and watched his author events and many of his videoed interviews and followed him on Facebook for so many years. At least I know him as an author if not personally. So why not take him at his word, so to speak, and admire his portrayal of an "everyman" like Mike Munoz? Years from now, if people are still paying attention to books and writers, he will probably be known on a level with Zola, George Eliot, Sinclair Lewis, etc, for telling us the stories of everyday people and how they get overlooked in the novels of our current society.