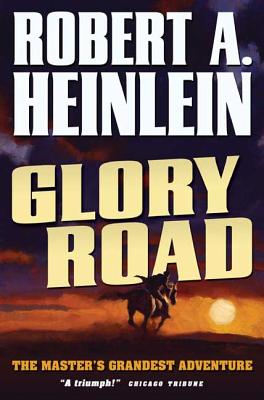 Glory Road, Robert A Heinlein, G P Putnam's Sons, 1963, 288 pp
Notice:
I am afraid you who follow my blog are going to be reading about a larger number of old books this year. I have committed myself to a firmer push to get through the lists of My Big Fat Reading Project, to reading 4 a month from those lists rather than 2 a month as I did last year. Seriously, if you want to get the flavor of a year from your past, there is no better way than to read the literature. Of course, if you are not as ancient as I am, 1963 might have been a past life for you!
Review:
This is the 14th book I have read by Heinlein. I decided to follow him in my project because he was one of the science fiction greats but also because he became a controversial figure as his politics evolved. Being controversial seems to go hand in hand with the speculative fiction writer territory.
The guy wrote in a variety of voices and from a variety of viewpoints. In Glory Road he uses his fast-talking, strutting his stuff voice for the main character Scar and his adventure yarn style.
Scar Gordon is a disillusioned army veteran in the Cold War years. Of course, being a Heinlein hero, he has almost superhuman abilities as a soldier. Now he is faced with either making a life in some soulless suburb or looking for adventure.
While chilling in some unnamed beach town, waiting for developments, he meets "the most stare-able woman" he has ever seen and ends up becoming her professional "hero" for hire. Off they go on what she calls "the glory road." Traveling through space, on a quest against strange foes, they adventure on strange planets and through time warps. Scar's personal quest is to win this woman for his wife.
He does and it turns out to be a mixed blessing. Thus in addition to being a rip-roaring yarn, the novel also becomes a meditation on love and marriage when a man has met more than his match.
Ha! I loved it.