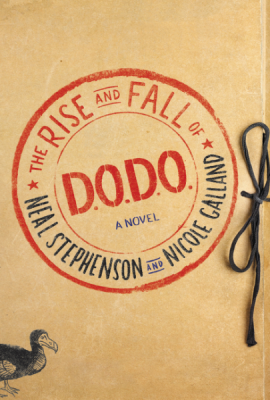 The Rise and Fall of DODO, Neal Stephenson & Nicole Galland, William Morrow, 2017, 742 pp
First thing first: DODO is an acronym for the Department of Diachronic Operations, a fictional US government department of the CIA. It uses witches and time travel to discover how magic disappeared from the world and how to bring it back. Its purpose is to influence world affairs and help keep pace with the country's enemies.
Second things second: Who is Nicole Galland and why did Neal co-write a novel with her? She is a historical novelist and had worked with Neal and a horde of others on his series,
The Mongoliad
(I have not read that). When Neal asked her if she would like to write DODO with him she said yes. In an
interview
with the two authors she said, "I think I said yes while he was still asking the question."
It turned out to be a match made in speculative/historical fiction heaven. Not that Neal has any trouble writing rip-roaring stories, but Nicole came up with some of the best female characters in the book and, in my opinion, added a certain zing to every aspect of the story.
The plot is so intricate, the book is so delightfully long, that I am not going to attempt a summary. None of the ones I have looked at have begun to capture it. All I will say is that if you love Neal Stephenson, witches, magic, humor, adventure and satire, the time it takes to read The Rise and Fall of DODO will be time well spent.
It reads like a fast paced thriller, is only mildly confusing (on purpose, I think), and all is made clear eventually. I read it in five days during my days of reading whatever I wanted in December. Neal will make you feel smart, as he always does, and Nicole will make you fall in love with all the characters, even the bad ones!