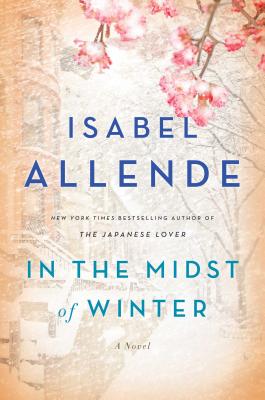 In the Midst of Winter, Isabel Allende, Atria Books, 2017, 340 pp (translated from the Spanish by Nick Caistor and Amanda Hopkinson)
Isabel Allende's latest novel was a pick for my One Book At A Time reading group. I always love her novels and this was no exception.
Three people are brought together during a blizzard in Brooklyn due to an automobile accident. The only things they have in common are Central/South America and trauma due to loss.
Richard, a repressed professor, plows into a car driven by undocumented immigrant Evelyn. A dead body in the trunk sends Evelyn to seek Richard's help. Lucia, a tenant in Richard's house is called in by him to assist in calming Evelyn.
As the three set out in the snow and wind on a desperate scheme to deal with Evelyn's dead employer, their back stories come to light. All of them spent the 1970s in the politically turbulent times that plagued many Central and South American countries. Each one suffered in horrendous ways.
Some reading group members complained about the shifts in time and location throughout the novel. Sorry to be cranky but it wasn't that hard to follow. One just had to pay attention and remember a few extra names. I found the back stories even more compelling than the current one. Allende creates great suspense and I was invested in each character because of the way she constructed her story.
I admire how this author has kept moving her novels along towards the present day. In her body of work she has put the historical events of the lower Americas' countries in terms of personal stories while showing how North America has become so diverse. Instead of click bait about immigration disasters and walls, she has taught me about the ways in which colonialism and our government's interference with Central and South American politics brought us to where we are today.
I also love her unique blend of romance, magic and human connection, always combined with strong female characters in the forefront of her stories. Despite all, people do take care of each other in ways we don't always recognize, they do sometimes recover from trauma, and they do find redemption.
By the way, the title of this novel is a quote from Albert Camus: "In the midst of winter, I finally found there was within me an invincible summer." The wonders of reading. I had finished reading
Camus, A Romance
just eleven days earlier. Gave me a chill in the midst of the last week of summer!