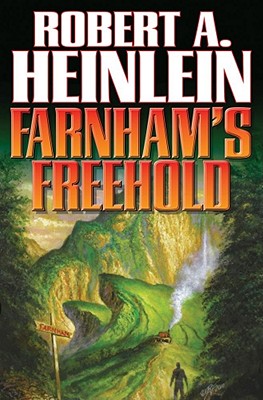 Farnham's Freehold, Robert A Heinlein, G P Putnam's Sons, 1964, 315 pp
Summary from Goodreads:
Hugh Farnham was a practical, self-made man, and when he saw the clouds of nuclear war gathering, he built a bomb shelter under his house, hoping for peace and preparing for war. What he hadn't expected was that when the apocalypse came, a thermonuclear blast would tear apart the fabric of time and hurl his shelter across two thousand years into a future both strange and appallingly familiar. In the new world order, Farnham and his family, being members of the race that had nearly destroyed the world, were fit only to be slaves. After surviving a global nuclear war, Farnham had no intention of being anybody's slave, but the tyrannical power of the Chosen Race reached throughout the world. Even if he managed to escape, where could he run to?
My Review:
In this fairly wacky tale Heinlein manages to combine nuclear war, a bomb shelter, racism, and time travel. If that is not enough to give a reader literary indigestion, I don't know what is. He made it work though and I read the book quickly and with enjoyment.
Of course his protagonist is a bossy, know-it-all man as usual but there are a few worthy female characters. After the time jump, he creates a scenario where the blacks have the power and the whites are the slaves. I found his views on racism to be quite sane and even advanced for 1964.
The purpose behind My Big Fat Reading Project is to trace through the fiction of the years I have lived and notice the cultural shifts, both positive and negative, as they occurred. Then to ponder how those shifts have influenced me and the life I have made in the world. In 1964 I was a junior in high school and just becoming aware of the civil rights movement, of people in my town who actually built bomb shelters, of the fact that economic and racial inequality combined with the threat of nuclear war were all so deeply ingrained in the politics of the time.
Thus it was both jarring and cool to come across all of that in a science fiction novel published in 1964. Heinlein must have been thinking about all that stuff for some time and while he was writing it.