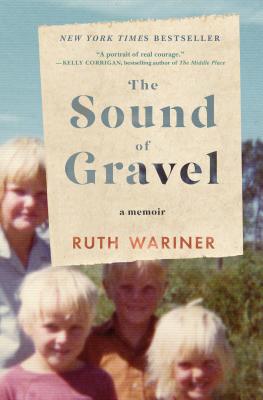 The Sound of Gravel, Ruth Wariner, Flatiron Books, 2015, 336 pp
This memoir was the January, 2016 selection of
The Nervous Breakdown Book Club
. The author grew up in a polygamist Mormon family. I listened to her interview on the
Otherppl Podcast
back in 2016 and wasn't sure I wanted to read another "I escaped from a cult" book.
I have read stories about Mormons before and become aware that the fundamentalist sector of that religion is truly a cult, that the polygamy is pretty wacked, and that for its members having kids is more important than caring for or raising them.
The preaching in Ruth's childhood church was that "God will punish the wicked by destroying the world and that women can only ascend to Heaven by entering into polygamous marriages and giving birth to as many children as possible." (Quoted from the book cover flap.)
It is all quite gruesome but Ruth Wariner is a good writer. She loved her mother, she hated her step-father, she did her best to protect her siblings. When she finally broke away she took as many of those siblings as were left with her and made a good life for all of them. She does not whine, she is not a victim. She is a bright, smart survivor filled with a positive approach to life. In the interview I learned that it took quite some therapy to get there but she did.
I have had my own brushes with cults so whenever I read a book like this, I ponder about how many "cults" can be found in life, both religious and societal. Keeping one's mind and spirit free is possibly life's biggest challenge. It has been the reading of books, both fiction and non-fiction, that saved me.