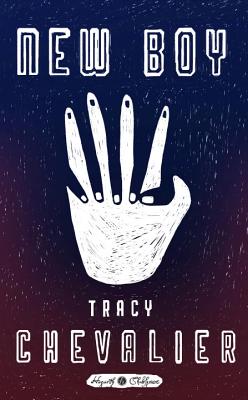 New Boy, Tracy Chevalier, Hogarth Shakespeare, 2017, 204 pp
New Boy is a retelling of Othello set in a 1970s elementary school in Washington, DC. In those days elementary went up to 6th grade, followed by 7th and 8th grades for junior high. The kids in the story are sixth graders.
All the major characters from the play are represented. Osei Kokote is Othello. He is the son of an African diplomat, used to being the new boy as this is his fifth school in five years and used to being the lone Black boy. Beautiful, blond Dee, the most popular girl and her teacher's pet, plays the Desdemona character. Between two recess periods on Osei's first day at school, he and Dee are beginning a relationship.
The dastardly sociopath Ian takes Iago's part and decides to destroy the budding attraction between Dee and the new boy. He employs his sycophantish friend Rod and recent girlfriend Mimi to rig various situations on the playground.
For much of the novel I was a bit bored. Aside from some trigger words it felt like a young adult story. The writing is simple in style and the kids are usual preteens. Gradually I began to admire the true to life racism, the volatile upheavals between classmates, and the sexual attractions and competitions. Yes, I remember to this day how it was when we were twelve going on thirteen.
Even though I had just read the Shakespeare play and knew it would end in tragedy, I wanted things to end happily for Dee and Osei. I hoped at least one of the bumbling and clueless faculty would act intelligently enough to save the day.
I closed the book full of admiration for the author's intricate portrayals of Shakespeare's tale of bullying, betrayal and jealousy. She captured every nuance of the play. I think New Boy should be required reading for middle school teachers and parents of preteens. The kids probably don't need to read it. They are living it.
I found myself pondering the book for days and comparing it to
The Hate U Give
which I had read just two weeks earlier.