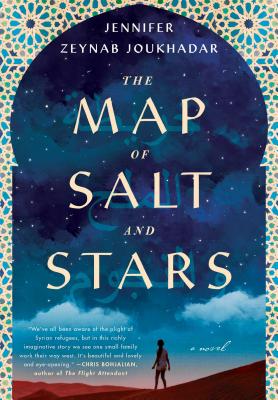 The Map of Salt and Stars, Jennifer Zeynab Joukhadar, Simon & Schuster, 2018, 352 pp
I have been wanting to read a novel based in Syria and this was an excellent one with which to start. The author is Syrian/American, has had short stories published here and there, and this is her first novel. It was an epic and glorious read.
The story is set in two time periods, as so many novels are lately. In this case the device works perfectly and I was completely immersed in both. The current period is 2011/2012. Nour is the youngest of three daughters. She is the only one of their Syrian parents born in the United States. While living in New York City, her beloved father dies after filling Nour with stories of their family homeland.
When Nour's mother moves her and her sisters back to Syria, the girl repeats those stories to herself in an attempt to keep her father in her heart while she adjusts to Syria.
Nour's favorite stories feature Rawiya from the 12th century, who ran away from her home in the North African town of Ceuta, just across the Straight of Gibraltar from Spain. Rawiya disguised herself as a boy, managed to apprentice herself to the most famous mapmaker of the time and had incredible adventures. Her story fills the earlier time period in the book.
When the 21st century Syrian War reaches Homs, where Nour and her family returned to live, their home is bombed into rubble and they escape with only a few belongings. Soon they realize they are refugees and must make a desperate journey westward, hoping to qualify for asylum in America.
Nour's journey and Rawiya's cover similar paths. As the novel alternates between the two, the details of both timelines are brought to life. Both young women come of age; both are longing for home.
The Map of Salt and Stars could have been a difficult read for me, even though the writing is exceptional, due to the absolute foreignness of the locations. However, I had recently read the section of Will Durant's The Age of Faith, wherein he tells the history of the Islamic Civilization in the Middle Ages. I had learned about all the key players and conflicts between Islam and Christianity as well as the rise and fall of rulers from 569 to 1258 AD. The mapmaker, al-Idrisi, to whom Rawiya was apprenticed was a real personage in those days and I had read about him!
That knowledge and the maps provided in the novel kept me oriented. I happen to love maps and use them often while reading. My own mental map of the routes both young women traveled from Syria through Lebanon, Israel, Egypt, Libya, Algeria and Morocco to the town of Ceuta on the Straight of Gibraltar is now pretty fully formed. I think most readers who love history could follow the story just fine but if your geography of that area is lacking, use maps.
Now when I read the news of what is happening in those countries I have images to go with it. When I read about the beleaguered refugees of today, I can picture their day to day struggles and dangers. I can feel their losses of home and identity.
I think Jennifer Zeynab Joukhadar channeled the map making skills and story telling gifts of her characters. For the politics of Syria and the Middle East of today we can read the news but she filled in the personal details of a culture that was once a major world power but is now being torn apart and in danger of oblivion. What a great read!
PS: Tomorrow morning I embark on a dream vacation to Zion National Park with my husband. I have wanted to go there for a long time. So I will be back to blogging next week.
(
The Map of Salt and Stars
is available in hardcover by order from
Once Upon A Time Bookstore
. The paperback will be released in March, 2019.)