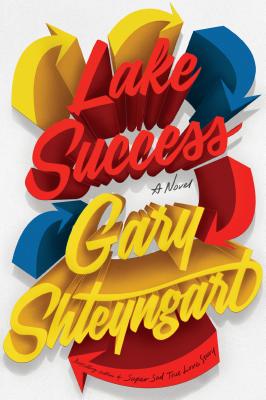 Lake Success, Gary Shteyngart, Random House, 2018, 335 pp
One of the best things Russia has given America is Gary Shteyngart. Actually, he is not a thing. He is a person who creates things, namely five novels and a memoir. I have read all but one of his novels and his memoir. His books are nothing short of amazing.
Lake Success is his only novel set entirely in the United States of America. All of his earlier work has included Russia in some way and if you read his memoir, Little Failure, you understand why. Now that America has become more like Russia in some ways, I guess he felt comfortable writing exclusively about the country he lives in instead of the one he came from.
Lake Success is the name of the hedge fund founded by Barry Cohen, circuitously named after The Great Gatsby. The story opens thus: "Barry Cohen, a man with 2.4 billion dollars of assets under management, staggered into the Port Authority Bus Terminal. He was visibly drunk and bleeding. There was a clean slice above his left brow where the nanny's fingernail had gouged him and, from his wife, a teardrop scratch below his eye. It was 3:20 AM."
This is the ultimate road trip novel, one of the ultimate American odyssey tales, and possibly the ultimate tale of the rich white male trying to discover his true self. In this time and place, many Americans are quite aware that the true eye of the needle for white privileged men is coming to awareness of and empathy for other human beings.
I went to hear Gary Shteyngart read from Lake Success a couple weeks ago. Normally listening to an author read aloud from his or her work is a dull, mind numbing experience for me. He pulled it off like a pro, like a top poetry jam dude or a truly funny comedian. Even more entertaining was his story about how he wrote the novel. All of that however might have slipped my mind, as so many things do at my age, had I not read the book.
You get Barry's life story, how he ended up marrying a woman of Indian descent, what devastation ensued when their son was diagnosed as being on the extreme wrong end of the Asperger/Autism Spectrum, how he came to be on the run from the SEC, and how many painful lessons he had to learn before he even got a clue.
All of that makes a fine story but this is Gary Shteyngart. You know all those books and think pieces about how we managed to elect our current President and what the heck is wrong with America? Oh my, the hand wringing, the anger, the complete identity crisis of the USA? Yes, this is an author of fiction having his say and boy does he.
Barry travels across the country on Greyhound buses, underfunded but undaunted. He has come down from his shaky ivory tower to meet America, the America that hides beneath our plastic shiny veneer. His journey is equal parts hilarious and hideous, delightful and depressing. This novel is exactly what you need after two years of anxiously reading the news and your social media feeds.
Does Barry achieve awareness and empathy? Well, yes and no. A rich white man will always retain certain quirks. He does, after a really long time, become a better human being. As Jesus said, "Truly, I say to you, it will be hard for a rich man to enter the kingdom of heaven. Again I tell you, it is easier for a camel to go through the eye of a needle than for a rich man to enter the Kingdom of God." Matthew 19:23-24.