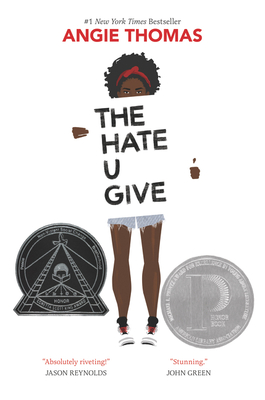 THE SUNDAY FAMILY READ
The Hate U Give, Angie Thomas, HarperCollins, 2017, 444 pp
I chose to read this Young Adult novel for Banned Books Week. It was on the list of the most challenged books in 2018. It won several awards and was nominated for slews of others. The movie adaptation will be in theaters on October 19th. It is amazingly well written for a first novel.
Starr Carter is a sixteen-year-old African American girl living between two worlds. She resides in a poor neighborhood where her father runs a grocery story and her mother works at a medical clinic. She attends a top of the line prep school in an affluent area of her unnamed city.
One night she runs into her childhood best friend at a party. They go for a drive and are pulled over for no reason by a white police officer who shoots Khalil in the back for no other good reason.
Starr's uncle on her mother's side is also a police officer. Thus follows a months long story during which Starr finds her voice, her courage, and tries to do the right things while she mourns her friend and her neighborhood goes up in flames due to gang violence, protests and unrelenting media attention.
Angie Thomas brought the things we see in the news to full life with all the nuances of the stuff that African Americans must navigate no matter how hard they try and no matter what paths they choose. Starr is portrayed realistically as the teenager she is who has to deal with so many conflicts and hard questions that would more than challenge a grown woman.
The lies about Khalil in the press, the threats against her family by a local drug lord, the confusing past of her own parents, combine with the fact that she is the only living person, besides the trigger happy cop, who knows what really happened on that fateful night. No matter what she says or doesn't say, she could endanger herself, her family and her community.
I loved many things about the book but two of those things stand out. By making Starr and her friends completely believable teens, I felt every sentence was true. By not talking down at all to a young adult audience, Angie Thomas wrote possibly one of the best books I have read in the genre.