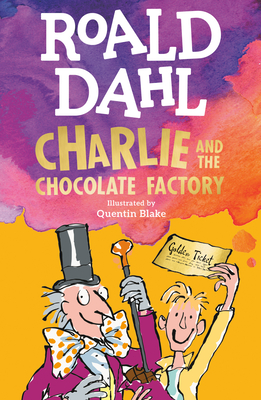 Charlie and the Chocolate Factory, Roald Dahl, Random House, 1964, 155 pp
I really do not know why I have eight children's books on my 1964 list. I am not sure why I included Roald Dahl in My Big Fat Reading Project. I have grave doubts about what this author was up to. He is one of those morally ambiguous English dudes and I feel queasy about such men who write for children.
Charlie and the Chocolate Factory is the story of a poor boy, so poor that he only gets one candy bar a year, who obtains one of five golden tickets to a tour of Willy Wonka's chocolate factory. According to a few of my reading group friends, Dahl's books for children were read to them by their mothers and they loved them.
I have a complicated relationship with sugar in general, chocolate in particular. It is one of my addictions though I have learned to manage it. I had a birthday this month and allowed myself several pieces of chocolate cake. I was just as happy as Charlie when I was eating it but felt horrid for a few days afterwards.
Four of the five kids who get to tour Willy Wonka's factory are horrid little buggers and they each get what is coming to them. Charlie gets to stay and inherits the factory.
The story contains a good amount of preaching against bad behavior, being spoiled, and especially the dangers of television. Nevertheless, everyone eats sugar and chocolate exclusively for the whole day. I know, I know. That was my dream too as a kid, growing up in a home where sugar was tightly restricted.
There have been two movies: one in 1971 for which Dahl wrote the screenplay and one in 2005 directed by Tim Burton and starring Johnny Depp. I think I have seen the later one.
So now you know all about the book and a little about me and chocolate.
Have you read this book? Did you read it to your kids? Have you seen either movie? Please, weigh in!
(
Charlie and the Chocolate Factory
is available in paperback on the shelves in the children's section at
Once Upon A Time Bookstore
.)