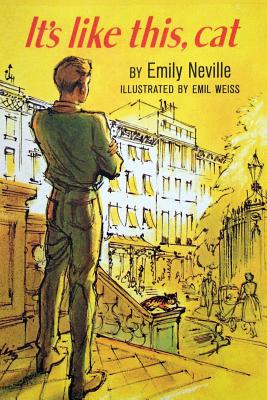 It's Like This, Cat, Emily Neville, Harper Collins, 1963, 180 pp
As part of My Big Fat Reading Project, after I have finished reading the top 10 bestsellers of a given year, I go through the award winners. As of 1964 there were only six major awards given in the United States. These days there are scores of them.
It's Like This, Cat won the Newbery Award in 1964, given for the best writing for readers aged 8 to 12. Up until 1963 this award favored historical fiction and some rather dull "improving" type stories. 1963 was a breakout year for the Newbery when Madeleine L'Engle received the award for A Wrinkle in Time.
It's Like This, Cat showed promise that the Newbery's hidebound nature had truly changed, though the main character is a bit older than usual. David Mitchell is 14 and the story is set in contemporary times in New York City.
David has a frail mother who suffers from asthma. His father is a somewhat overbearing stuffed shirt. Son and father argue often, setting off the mother's asthma attacks.
I don't know if the city was safer in the mid-1960s than it is today (probably not) but David roams freely with his friends. He gets around by subway, bus, bicycle and his own two feet. These kids think nothing of walking blocks and miles through the city.
Despite David's difficulties with his dad and kids his age, he has an adult friend. Kate is a crazy cat lady who lives alone and rescues cats. She gives one of these to him, a tomcat who becomes his main companion during the course of the story. What a fine cat he is too!
By the end, David has a best friend, a girlfriend, and a better understanding of his father. The story is reminiscent of Beverly Cleary and full of good writing. The author went on to write four more children's books while raising five kids in New York City.