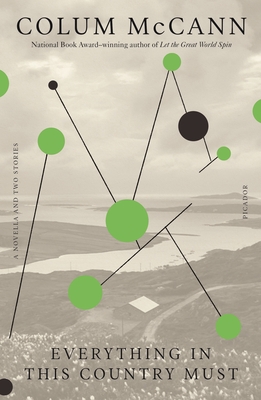 Everything In This Country Must, Colum McCann, Picador, 2000, 143 pp
A few weeks ago my husband and I went to dinner at the home of one of his clients. Among the six of us present were several readers, so we had good book talk. The client's husband lent me this collection of a novella and two stories by Colum McCann. How great is it to have put in your hand a book you have not read yet by an author you love?
The first Colum McCann novel I read was Dancer. It blew me away. He is Irish and has the story telling gift. He can take any world event and distill it down to the personal by creating characters who live and breathe on the page.
This collection is his fourth published book. I had never read his early work. The title story is about a young girl who must witness the saving of their only horse from drowning. It is set during the Troubles and brings into stark relief the complete antipathy between a Catholic Northern Ireland man and a unit of British Troops.
The second story, "Wood," shows a mother and daughter taking care of the family lumber mill while the father lies incapacitated at home. I didn't quite get the point of that one except there were secrets.
The novella, Hunger Strike, was one of the most powerful pieces of fiction I have read. Again the Troubles. A 13 year old boy and his mother seem to be hiding out in a small coastal town. The boy's uncle, his missing father's brother, is in jail and participating in the 1981 Irish hunger strike.
Through the eyes of this boy, as he tries to figure out what is going on, McCann creates the effects of this non-violent political act on relatives and everyday people. He does not go into the politics much but the emotions, the fears and the hopes of the Irish took residence in my heart and mind.
I feel like I have been waiting a long time for a new novel by Colum McCann. I found an interview from January, 2018, where he states he is working on a novel. Now I see that there are at least three early novels I have not read. Good!