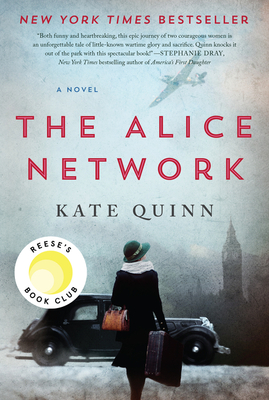 The Alice Network, Kate Quinn, William Morrow, 2017, 494 pp
Summary from Goodreads:
In an enthralling new historical novel from national bestselling author Kate Quinn, two women—a female spy recruited to the real-life Alice Network in France during World War I and an unconventional American socialite searching for her cousin in 1947—are brought together in a mesmerizing story of courage and redemption. 1947. In the chaotic aftermath of World War II, American college girl Charlie St. Clair is pregnant, unmarried, and on the verge of being thrown out of her very proper family. She's also nursing a desperate hope that her beloved cousin Rose, who disappeared in Nazi-occupied France during the war, might still be alive. So when Charlie's parents banish her to Europe to have her "little problem" taken care of, Charlie breaks free and heads to London, determined to find out what happened to the cousin she loves like a sister.
1915. A year into the Great War, Eve Gardiner burns to join the fight against the Germans and unexpectedly gets her chance when she's recruited to work as a spy. Sent into enemy-occupied France, she's trained by the mesmerizing Lili, the "Queen of Spies", who manages a vast network of secret agents right under the enemy's nose.
Thirty years later, haunted by the betrayal that ultimately tore apart the Alice Network, Eve spends her days drunk and secluded in her crumbling London house. Until a young American barges in uttering a name Eve hasn't heard in decades, and launches them both on a mission to find the truth...no matter where it leads.


My Review:
This was a reading group pick. I had my doubts but it turned out to be an absorbing, exciting pageturner. Based on a real British spy network composed of women during WWI, it tells the complete stories of three of those women. Eve Gardiner, one of them, is an invented character while the other two were real.
My goodness, the courage those women had! I have read about John le Carre's spies becoming disillusioned and being thrown under the bus, but Eve Gardiner's experience was at least 100xs worse.
So many scenes of the ways these women were made less of because they were female. It gets your rage up. Charlie St Clair, the post WWII character, is also strong, though all the things she did in early pregnancy made me fear for her. She breaks most cliches.
I had to return the book to the library before I had a chance to write my review. So I cheated and used the Goodreads summary. The story includes a couple romances and Kate Quinn did a pretty good job with that part, though she does fall into what I call "romance writing." Nothing worse than what Mary Stewart used to do, in fact better. The rest of the book though is strong historical writing as well as being a thriller.
Despite all the horrors
of war, there is a happy ending. We had a long and full discussion at reading group. The one man in the group had big realizations about what women have to put up with. The rest of us, including his wife, just nodded and smiled knowingly. Truly this is a book probably many men would like while also having their own realizations.
(The Alice Network is available in paperback by order from Once Upon A Time Bookstore.)