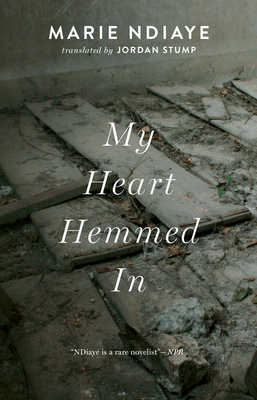 My Heart Hemmed In, Marie NDiaye, Two Lines Press, 2017, 279 pp (orig pub in France by Editions Gallimard, 2007; translated by Jordan Stamp)
Readers who follow my reviews know that I don't mind wandering lost for a while in a novel. This is the third novel I've read by French author Marie NDiaye. She never fails to challenge me while drawing me in to her world of people who are themselves challenged by race, origin or social status in a European setting where they don't fit.
Nadia and Ange are dedicated school teachers who have risen from humble beginnings to a tenuous French middle-class life in Bordeaux. They are childless and consider themselves better than their fellow teachers. A growing awareness that they are despised in their community culminates in a physical attack on Ange.
While Ange refuses any medical care, malingering near death in his bed, Nadia fights for her identity. She roams the city, trying to understand how they have fallen so short of what they desired.
Through allegorical haunting and psychological suffering, Nadia revisits her first husband, the estranged son of that marriage, and finally the parents she rejected long ago. Eventually she gains clarity.
One of the things I recognize in NDiaye's novels is that the lives of lower-class immigrants in France are only a parallel of the immigrant experience in America. Often these are people who come from countries once colonized by the French. Like any immigrant they come to France seeking a better life but must suffer from a loss of family and traditions, amounting to a loss of identity.
Her writing is powerful, rich and disturbing. She paints the confusion and displacement of her characters in the tones of nightmare with echos of their origins. Whenever I read her, I am made aware of the suffering we all experience as human beings trying to achieve connection in a world where differences are often stronger than similarities.
Marie NDiaye is the daughter of a French mother and a Senegalese father, raised near Paris. She published her first novel at seventeen. She won the Prix Goncourt in 2009 for her third novel,
Three Strong Women
, which I have read. That novel landed her on the Man Booker International Prize 2016 finalists list. Her 2013 novel,
Ladivine
has also been translated into English and is perhaps my favorite of the three I have read.