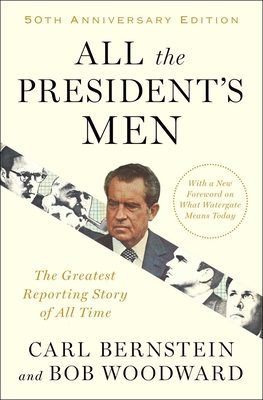 All the President's Men, Carl Bernstein, Bob Woodward, Simon & Schuster, 1974, 336 pp
You might ask why I read this book now. After I finished it I asked myself why everyone isn't reading it these days. I had watched the movie, Mark Felt (about the FBI special agent who was known by Bob Woodward only as Deep Throat during the Watergate investigation.) That led me to watch the movie by the same title made from the book All the President's Men. The movie was good but I felt there might be more to know, so I read the book.
In 1970 I had my first son followed by another in 1973. We were hippies and we hated Nixon because of our protest against the Vietnam War and because of the Kent State shootings. For some reason, I paid no attention to the Watergate scandal. I blame that on being sleep deprived and living in what my sisters and I call "the baby zone." In fact until I saw Mark Felt I was still hazy on what Watergate was all about.
Both movies made me aware that we are in a similar situation now, in my opinion, with an unstable President who attacks the press and is under investigation for illegal activities regarding his election to the office.
Though both movies were excellent, the book is indeed better and more informative. It gives the entire blow-by-blow account of Washington Post reporters Bob Woodward's and Carl Bernstein's investigative reporting on Watergate and how that contributed to Nixon's resignation. It is a thrilling though terrible account of criminal behavior and cover ups instigated by President of the United States Richard Nixon and carried out by the men closest to him. It was the #2 non fiction bestseller in 1974.
Though Watergate seems almost tame in comparison to today, the story shows the importance of a free press when the American public needs to push back against branches of our federal government, the FBI, and the federal justice system.
Exciting, sobering and so timely. I am so glad I read it. It gave me hope and restored the shaky state of my confidence in our democracy.