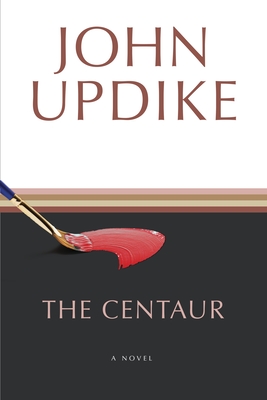 The Centaur, John Updike, Alfred A Knopf, 1963, 299 pp
I thought I was done with Greece for a while but it turned out, not exactly. The Centaur is John Updike's third novel, it won the National Book Award in 1964, and is a loose retelling of the Greek myth of Chiron, noblest of all Centaurs.
George Caldwell is Chiron. It is 1947 and George is unhappily though gratefully employed as a high school teacher in the small Pennsylvania town where some of Updike's novels are set. The story takes place over a few winter days in the life of George, his wife and his son.
In the myth, Chiron was wounded by a poison arrow. The wound never healed, the pain never lessened. As a Centaur he was immortal but, longing for death, he traded his immortality as atonement for Prometheus, who defied the gods by stealing fire and giving it to mankind. Prometheus plays a large part in
Circe
, the novel I read a few weeks ago.
This novel probably follows the myth more closely than I was willing to work for. I was content to enjoy Updike's tale while I noted that sometimes George appeared as a Centaur but most times as a man. He consistently appeared as an emotionally wounded man.
The chapters alternate between George and the first person voice of his teenage son. That son has dreams of being a painter, is frustrated beyond endurance by his father, and yet tries to understand him.
I love John Updike's writing. Whether in description, dialogue or action, every word contributes to creating his tale. Therefore, even though the connection to the myth was tenuous for me, I was thoroughly absorbed in this novel about a husband and father who knew he was flawed but gave all he had to his family.