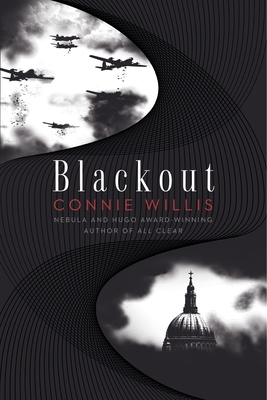 Blackout, Connie Willis, Ballantine Books, 2010, 491 pp
This was the June selection for my self-created challenge to read 12 books from 12 past years of my TBR lists. I have always wanted to read Connie Willis because she has won so many awards (seven Nebulas and eleven Hugos) and gets great reviews. But I have been tricked!
Blackout is the first of two books that comprise one story. The second book is All Clear. Both came out in 2010 and won the Nebula and the Hugo jointly in 2011. Blackout is long, in fact it felt longer than 491 pages, and it just ends with the story only half told. Since both books won together, I wonder what possessed the publisher to not bring it out as one long book.
Anyway, I liked Blackout. If you think you have read enough WWII novels (and you probably have!) I recommend adding these two books to your lists. It is a new look at the Battle of Britain and the Blitz. Connie Willis does this by using time travel.
In a large nutshell, there exists in 2060 Oxford an enormous time travel endeavor to study what makes a hero. Historians are being sent back in time to various major past conflagrations. The four main characters are sent to Britain in 1940. Time travel had been working fairly smoothly and suddenly has gotten chaotic with frequent changes of assignments.
Worst of all the characters in Britain find that their contact points, called "drops," from where they can come and go between 1940 and 2060 don't seem to be working properly. They are stuck in World War II.
Such a cleverly constructed story. My nutshell is not big enough to explain how but discovering that is at least half the fun of reading the book. To complicate situations further, each character finds herself or himself becoming invested in the circumstances of the times and torn between their duties as historians and their wishes to be of use. They dare not do anything that might change the future but what if they have?
The set up and plot require continuous and repetitive missed connections. My only complaint is this became as tiresome for me, the reader, as it must have been for the characters. By the end of this volume I felt exhausted, my nerves were frayed, and so it was for the time traveling historians. It was the ultimate missed connection to learn I was only halfway through the story.
I concluded that Connie Willis had accomplished a feat. This is the Battle of Britain and the Blitz as experienced by the citizens: the workers, shop girls, parents and children; those who went to the shelters every night not knowing whether or not their homes would be intact the next morning. Still they continued to ride the subways and buses and go to work during the day. An amazing population of practical sturdy people brought to life in a book.
The author must have done prodigious research. It is as if you are there and have traveled through time yourself. At the same time, you care desperately about the historians.
Now I am hooked and must find the time to read All Clear soon before I forget the details. The title suggests that it all comes out right in the end.