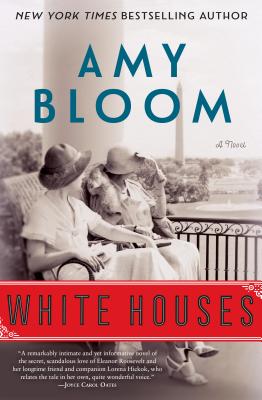 White Houses, Amy Bloom, Random House, 2018, 213 pp
I love Amy Bloom. I have read all three of her earlier novels,
Love Invents Us
,
Away
,
Lucky Us
. She always surprises me. She writes stories that no one else does, about finding love in the most unexpected places.
In this, her latest novel, an impoverished and abused girl from South Dakota scrabbles her way to New York City and becomes the most prominent woman reporter in depression era America. Lorena Hickock meets the rich and privileged Eleanor Roosevelt in 1932 while reporting on FDR's first presidential campaign. Lorena and Eleanor fall in love.
This story is told by Lorena, as it would have to be. She was the one who saved all their letters, bequeathing them to the Roosevelt Library on her death with the instruction that they not be opened for 10 years.
A relationship so deep, that brought both women the love they had each despaired of ever finding, was doomed from the start. Amy Bloom read the letters and wrote her fictional account to show how love can be made almost impossible by differences, in background and the culture which surrounds it and the duties and freedoms neither woman could ignore.
It is a heartbreakingly beautiful story. There are possibly readers who cannot bring themselves to picture Eleanor Roosevelt as she is presented. I found a couple at the reading group where we discussed the novel.
I know from her novels that Amy Bloom can picture anyone in the most exceptional ways. I loved White Houses as much as each of her earlier novels.