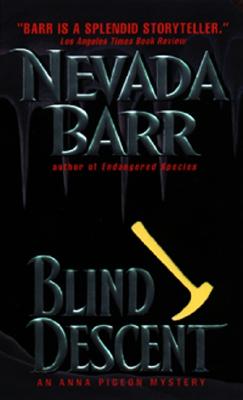 Blind Descent, Nevada Barr, G P Putnam's Sons, 1998, 341 pp
Nevada Barr's sixth novel featuring park ranger Anna Pigeon is set in New Mexico's Carlsbad Caverns. The location is known to the National Park Service as CACA. The area contains two of the most famous caves in the world, one of which, Lechuguilla, now harbors an injured caver who is also a close friend of Anna's.
I have never once in my life had the desire to explore caves. I am not really claustrophobic but I don't like the idea of being underground. Anna, on the other hand, suffers badly from claustrophobia. If it hadn't been her dear friend Frieda lying 800 feet below the surface with a concussion and a broken leg, Anna would have begged off.
Now, having read the book with all of Anna's terror and all the minute details of how to maneuver down and through the cave's passages, I am well assured that staying out of caves is the best decision for me. I also learned that I have missed seeing some of the most beautiful formations in the world but I am fine with that. Nevada Barr's exquisite descriptions and Google will suffice.
The first part of the book tells about the harrowing rescue effort to extract Frieda and is a heartstopping tale of extreme adventure . When Anna learns that the accident might actually have been an attempt on the woman's life, the tension mounts. Which of the caving team did it?
I just cannot reveal any more about the plot without serious spoilers. Once the rescue team and the original exploration team finally get out of Lechuguilla, there is an unfortunate lull in the action. Just as we all caught our breath though, the stakes are kicked up several notches and Anna finally exposes the culprits.
It is hard to imagine how Nevada Barr is going to top this one.