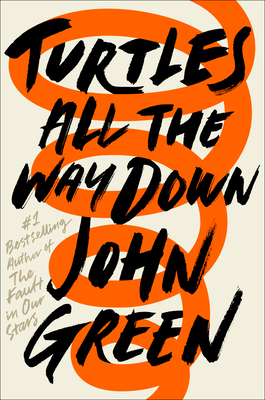 Turtles All the Way Down, John Green, Dutton Books, 2017, 286 pp
I read this young adult novel for Molly's reading group. We chose it because Molly's teenage daughter had it assigned for her summer read by her school. She attended our meeting and it was just the best thing to have her input. Whenever I read YA lit, I wish I knew some young adults to talk with about the book.
Two teens renew their friendship, originally formed when they met as kids at "sad camp," where they were sent because they had each lost a parent. Aza had lost her dad, Davis his mom.
Aza suffers from OCD. She falls into compulsive thinking due to a fear of a certain bacteria, Clostridium difficule.
"I have these thoughts that Dr Karen Singh (her therapist) calls 'intrusives,' but the first time she said it, I heard 'invasives,' which I like better, because like invasive weeds, these thoughts seem to arrive at my biosphere from some faraway land, and then they spread out of control."
When these thoughts arrive they spiral endlessly, the spiral tightens, and Aza practices behaviors which are harmful but she can't not do them. John Green describes all this so well. It turns out that he has had OCD all his life and has been helped by medication and therapy to manage his condition.
When Aza and Davis meet again, his billionaire father has disappeared. A reward for information leading to his whereabouts gets Aza's best friend, who writes Star Wars fan fiction, excited. Daisy is from a low income family but desperately wants to go to college.
Trouble starts when Aza and Davis begin to fall in love. So much trouble: between Aza and her mom, between Aza and Daisy, between Aza and Davis. How many love triangles can one girl have?
I didn't love the book with my whole heart but I did like it quite a bit and I learned a lot. John Green is an excellent writer and he gets teens. These kids in the story are smart, compassionate, and all three do their best to navigate the many issues in their lives. They do their homework and get top grades. I am pretty sure not all teens are like this but many are.
The ending was the only part that bothered me. Too abrupt and too neatly tied up. I have to admit though that Aza, Daisy and Davis all deserved a break and a happy ending.