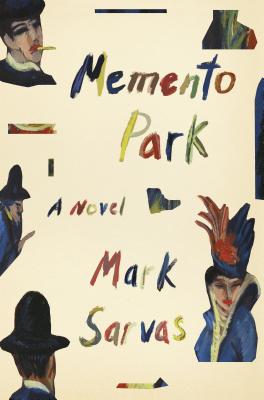 Memento Park, Mark Sarvas, Farrar Straus and Giroux, 2018, 271 pp
I read this novel because Mark Sarvas used to have a wonderful literary blog called The Elegant Variation. It was one of the first blogs I followed back when book blogging was a new fresh thing and a big deal. He inspired me to start my own blog.
Memento Park is the story of a 21st century man descended from Hungarian Jews. Matt Santos is a B-list actor. He has steady work doing bit parts on TV shows and is engaged to a beautiful, not Jewish, blonde fashion model. Then a painting comes into his life, a masterpiece by a deceased Hungarian modernist believed to have been looted from Matt's parents' home in Budapest during WWII.
Like a wish granted in a fairytale, the painting could make him a rich man but brings with it a curse. Matt has a fractured relationship with his father, a distant connection with his mother, and a deep aversion to his family's past.
In truly beautiful prose layered with the contemporary glib conversations of Hollywood, Matt's journey to acceptance and awareness unfolds. On his journey he loses almost everything: his fiancee, his job and very nearly his sanity. Though there are scenes of levity and wit, a darkly emotional atmosphere wraps this tale.
Somehow I never tire of stories where a secret and murky past involving immigrants who deny that past in order to make a good life in America, comes back to haunt their children. When the story is written as masterfully as Memento Park is, I feel honored just having read it.
Last night I met Mark Sarvas in person for the first time at a writer's event held in the Echo Park branch of 826LA, where he read a passage from the book. He is a husband and father now, he teaches novel writing at UCLA, and has moved on from blogging.
I got to tell him how much I loved his novel and why. He thanked me several times for coming out but seemed conflicted about being in the public eye. He is at work on a new novel that he said harks back to the comedic mode of his first novel, Harry, Revised, which I never read. I was a fan of his blog and now I am a fan of his fiction. I will read the first novel while I await the third.