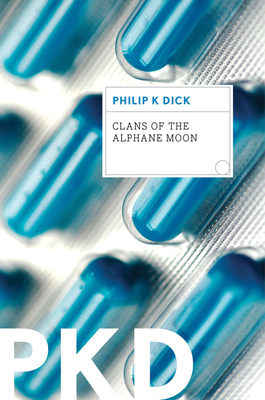 Clans of the Alphane Moon, Philip K Dick, Ace Books, 1964, 251 pp
You may wonder why I am reading all of Philip K Dick's novels for My Big Fat Reading Project. Sometimes I wonder myself. I am fascinated by his writing though and by the fact that he was somewhat of an outlier in the early Sci Fi world. I have read that he became extra strange at some point, some say insane, and I want to spot when or how that happened. Most of all I like how he embraces absurdity since life is indeed absurd.
Alpha III M2 is a distant moon of the planet Alphane. It had been a dumping ground for psychotics some generations ago but they now rule the moon, having been liberated from the mental wards. The differently diagnosed psychotics band together in various conclaves though they have a Supreme Council and agree on one thing: they are not going back to being hospital patients.
There are the paranoid Pares, the manic Mans, the depressive Deps, the schizophrenic Heebs, and so on. Danger is approaching in the form of Mary Rittersdorf, a psychiatrist and her husband Chuck, a CIA agent. Mary and Chuck are on the verge of divorce and therefore on opposing sides when they reach the moon.
Then there is the famous TV comedian Bunny Hentman, who has secret monetary connections on Alphane and is looking to grow his audience. This story starts crazy and ends just a little less crazy, which may be the hope factor in the tale.
The other day a friend of mine said she does not like science fiction because it isn't real. I told her if you read science fiction from 60 or so years ago, you notice that a lot of it is real now.
Clans of the Alphane Moon turned out to be pretty thought provoking in these days where crazies and criminals appear to be running our government and where we who have been reduced to constant anxiety must somehow band together to save our country, maybe even the world.