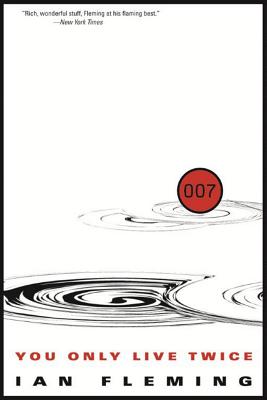 You Only Live Twice, Ian Fleming, New American Library, 1964, 218 pp
This was the last James Bond novel written fully by Ian Fleming. Any Bond novel published after 1964 was either finished by editors or written by other authors. It took the #8 spot on the 1964 bestseller list.
I did not know this when I began to read the book. I saw most of the movies over the years but the only other Bond book I have read is
On Her Majesty's Secret Service
, back in February. Everything about
You Only Live Twice
is so different from the other book that I wondered if I was reading the same author.
007 was in a slump after the tragedy that ended On Her Majesty's Secret Service. He had flubbed a few missions and was clearly off his game. M, Bond's boss, decided to shake up his spy and revitalize him by sending the man on an "impossible mission" to Japan. (Is that the origin of the name for the Mission Impossible series?)
Off James went to meet up with the head of the Japanese Secret Service, where he proceeded to languish as he learned Japanese culture. It was literally more than halfway through the book before he saw any action. The mission finally started at about 50 pages from the end. So different, though Bond did finally annihilate his old enemy, Ernst Stavro, in a thrilling and dangerous sequence.
Now that I have combed the internet for background and learned that Fleming died just a few months after the book was released, it makes more sense. The author was giving his summing up, complete with deep philosophical questions about life, love, and happiness. Or was he? The last chapter implies that Bond has a few more adventures. Perhaps he meant to provide a hand off to those franchise authors who would take over? Curious.