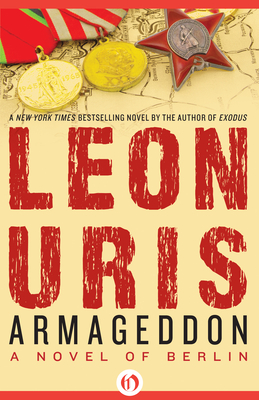 Armageddon, Leon Uris, Doubleday & Company, 1964, 632 pp
At #4 on the 1964 bestseller list comes another tome by Leon Uris. I have now read four of his novels because he was a big bestselling author in his day, so I had an idea of what I was in for. Historical, wordy, repetitive writing and cheesy romantic scenes are just the way it goes with Leon Uris. To his credit and probably why he was so popular, he gets into the nooks and crannies of history not always found in such fiction.
Armageddon is a novel of Berlin spanning the events from the tail end of World War II up through the Berlin airlift. Most people know that Germany was divided among the Allies after the war and that Berlin was situated in the Russian sector, later known as East Germany during the Cold War. Eventually this cockeyed plan, cooked up by the Potsdam Conference just after the war ended, became so untenable that the Soviets built the infamous Berlin Wall.
What Leon Uris does in the book is to show the early events leading up to the country being split in two. He covers the immediate disaffection between the Soviet Union and the other Allies: US, UK, and France. He includes the exposure of Hitler's concentration camps, the entire devastation wreaked upon Germany, the denial of the Germans as to Hitler's atrocities, and the extreme divergence between Russian plans for a communist takeover of Eastern Europe compared with the Western Allies' ideas for German reconstruction.
The book contains deep, complicated political history made accessible to those of us who are not political scholars. This is what went on behind the fairly slanted news stories put forth by each of the Allied countries.
His characters show the amount of hatred and fear carried by Americans, French, British, Russian and German people both in the political and military spheres as well as among the German populace. I was struck by the sheer degree of ill will that war generates, which is maybe more destructive even than the bombing, killing and devastation war brings to both victors and losers.
When it comes time for the airlift, brought about due to a Communist embargo on goods passing between their sector and the Western ones, the excitement mounts. That embargo has the potential for mass starvation and death by disease and freezing in those other sectors but is also a bid for communist control of the entire country.
The American general in charge of his sector must go to Washington and convince President Truman to override the Pentagon and Congress in approving funds and materiel. Pilots and planes are called back into service and they perform thrilling feats.
All in all, a worthwhile read that goes a long way to explicating how and why the Cold War came into being.
(Armageddon is out of print but can be found in libraries and from used book sellers.)