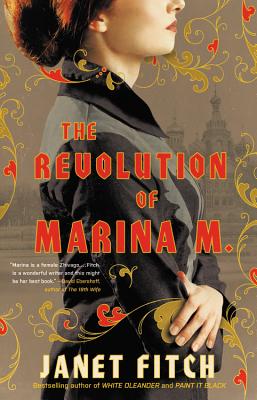 The Revolution of Marina M., Janet Fitch, Little Brown and Company, 2017, 800 pp
Do you love Russian literature? Do you think an American can measure up in writing a book of historical fiction set in Russia? I am here to tell you, she can!!
So many things made this one of the best books I read in 2017. It is a story of the Russian Revolution told through the eyes and heart and mind of a budding teenage poetess. I don't think that has been done very often, if ever. It is Janet Fitch's homage to Tolstoy, Pushkin and Russian poets.
Marina M! What a character. She explodes and emotes throughout the novel. It is as though Astrid from White Oleander and Josie from Paint It Black were merely writing exercises to prepare for the creation of Marina. You will either love her to distraction or find her annoying beyond belief. She is Bella from Twilight, Katniss from The Hunger Games, torn between two men but with the intellectual and political soul of the Russian greats. She is a poet, dangerously sensuous, daring, plucky, and ultimately as brave and resourceful as any male hero. She is only 16 at the beginning of the story and 19 at the end.
There is much more to this novel though than romance and heroics. It is a study in revolution with all its counterparts: idealism, too rapid change, violence, suffering, political infighting. The age old conundrum of how to upset a fixed order, how to create a just society, what it actually takes to run a country and a society, freedom, oppression, and all those gray areas where crime takes advantage of disorder to profit. All told from the viewpoint of one of "the people," not the leaders.
Although I suppose I knew better, I realized that all my life I have thought of revolution as an event that takes place over a few days. I realized that, like getting the news from sound bites and twitter posts, revolutions are taught by means of the "definitive event." The Boston Tea Party, The Storming of the Bastille, The Abdication of Czar Nicolas II, etc, etc.
In fact, a revolution takes years. As does a revolution in one's personal life. There is the day you walk out, of a family, a job, a marriage, but the new life you are trying to build takes years to come about and your former life trails you like a ghost or a nightmare.
There were countless women who participated in the changes from the Czarist autocracy of Russia to the Communist regime of the Soviet Union. There were as many female poets in 1917 as there were male. The story we have always gotten though is primarily male, from the leaders to the poets to the writers. Of course! Janet Fitch has elevated herself, in my opinion, to the ranks of those women who tell their own stories and the stories of their female predecessors. Like Svetlana Alexievich (Voices From Chernobyl), Simone de Beauvoir (The Second Sex), and so many more. With this novel she shows the truth about the personal being the political.
I don't predict that many men will read The Revolution of Marina M, or that those who do will totally get it. I sincerely hope that many women will read it. Even if they find stuff to criticize (and being women they will-:) we all know this is a story for us, that gets to the heart and mind of the second sex, that shows the consequences of freedom for us but also for all of humanity.
I know. It is 800 pages and is only part one of a two volume tale. That's fine. Do yourself a favor. Take a week off and read it. This is an extremely subversive work.