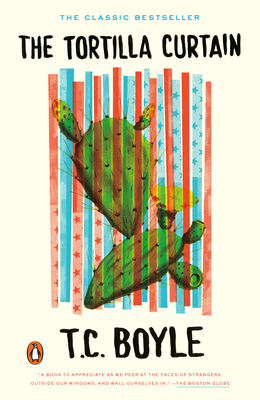 The Tortilla Curtain, T C Boyle, Viking, 1995, 336 pp
Somehow I had never read this novel by T C Boyle, though I have read with both interest and many times pleasure several of his others. I have read it now for my One Book At A Time reading group and it provoked an excellent discussion.
It is the story of an undocumented Mexican couple in the Los Angeles area who are scrambling to save enough money for an apartment before their first baby is born. Candido and his wife America are living rough in Topanga Canyon right across the main road leading to a gated community. Delaney and Kyra live there in luxury at the Arroyo Blanco Estates, he a nature writer and she a successful realtor.
When Delaney hits Candido with his car while driving the canyon road, a connection is made between the two men that will threaten both family's lives. T C Boyle spares no chance to contrast the economic privilege of Delaney and Kyra and their neighbors with the desperate poverty of Candido and America.
It is amazing how a book published 25 years ago still feels completely current. The American well-to-do harbor hatred, resentment and fear towards Mexican immigrants, spouting the very same lines we still hear today about how they steal our jobs and live off social benefits paid for by taxpayers. Gates and walls and security cameras abound.
Candido is determined to achieve his dreams for a better life than he could ever provide for his wife and child in Mexico. He makes bad decisions over and over but never loses his will to overcome all the obstacles confronting him.
It is a heartbreaking tale filled with events. With growing disdain for Delaney and Kyra, who also make bad decisions, and growing admiration for Candido and his much beleaguered wife as they use every ounce of strength to catch a break, I found myself wondering how immigrants to America ever make it.
They do though and I suspect most work at least three times as hard as most American citizens. The latest estimates regarding climate change and the accompanying loss of living space, are that immigration will be the next Armageddon for the planet. It won't be pretty but they will keep coming no matter how much the privileged classes of the world don't want them.
The book ends in the most harrowing scene of all with Candido making the most humane gesture of anyone in the book. It made me think of the final scene in John Steinbeck's Grapes of Wrath. In fact, the epigraph at the front of the book is a quote from Steinbeck's book:
"They ain't human. A human being wouldn't live like they do. A human being couldn't stand it to be so dirty and miserable"