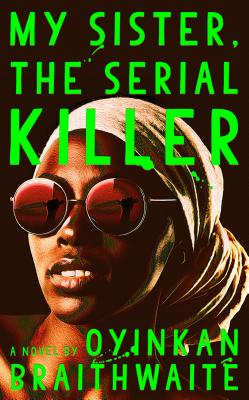 My Sister, the Serial Killer, Oyinkan Braithwaite, Doubleday, 2018, 192 pp
Do you follow the annual
Tournament of Books
, hosted by The Morning News? I have participated in it to varying degrees since 2010. I don't always read all the books in play (16+) but I enjoy following the results. Best of all, I have discovered some pretty great undersung authors.
When the list of books came out for the 2019 Tournament I had only read five of them. I am planning to read several more by March when the fun begins. That is how I came to read this one.
My Sister, the Serial Killer is set in Nigeria, written in English by its Nigerian author. It has been called a satire. I can see that it is somewhat tongue-in-cheek as far as society in Lagos goes. The story is over the top improbable but its underlying angst was not what I would call funny.
Two sisters still live at home, daughters of an abusive, now deceased father, and a delusional mother who spoils the younger sister and has charged the older one with protecting her. The big secret between these sisters is that the younger, when she tires of a boyfriend, just kills him. No remorse, no sense of having done anything wrong. The older helps her get rid of the bodies and the evidence. After the third murder, that younger sister qualifies as a serial killer.
The chapters are short and cinematic, but each packs plenty of action and emotion while filling in the back story and creating convincing characters. I read it because it was short and readily available on my library's eBook service.
Surprise! It was a super fun read even though the story is serious.