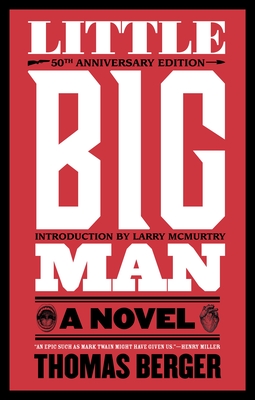 Little Big Man, Thomas Berger, The Dial Press, 1964, 440 pp
Books as great as this one make me happy that I spend much of my reading time on older novels. I started My Big Fat Reading Project initially as a method of learning American literature. While the project has expanded to include 20th century literature in general, it is surely accomplishing that original goal.
Thomas Berger, who died in 2014, was born in Cincinnati, OH, in 1924. He wrote 23 novels and though he was admired by critics and had many devoted readers, he is most widely known for Little Big Man due to the 1970 movie adaptation starring Dustin Hoffman.
I was impressed by his two earlier novels, Crazy in Berlin and Reinhart in Love, for their satirical take first on WWII army life and then on a soldier attempting to re-enter American society after the war. Little Big Man, while retaining that satirical bite, is historical fiction.
Set in the mid-1800s on America's Great Plains, still very much the Wild West, it is the life story of Jack Crabb who is looking back from the age of 111. As a boy he was captured and adopted by the Cheyenne. He returned to white civilization in his teens but forever had a bond with the Cheyenne and claims to be the only white survivor of the Battle of Little Big Horn, also known as Custer's Last Stand.
I have no doubt that the history in the book is accurate. It is also exciting. That history however is a frame on which the author examines the systematic conquest of the West by white settlers and the American government. Due to Jack Crabb's intimate knowledge of the Cheyenne, much of this examination is accomplished through the eyes of the Native Americans who suffered through what was nothing less than genocide.
The most interesting aspect of Berger's tale, for me, is his insight into the clash of cultures. It is not that the Natives were peace loving nature freaks but that the two approaches to living were quite diametrically opposed. Berger accomplishes this explication with humor and heart.
When I was a girl, I was fascinated by the Annie Oakley I saw on TV. I wanted to be her and organized all the kids in the neighborhood to re-enact her story almost every day one summer. Our bikes were our horses.
Due to that early infatuation I have read my share of Westerns and seen many of the movies. By 1964, when Little Big Man was published, I was finishing high school and had moved on to present day teenage concerns. Had I read this novel then I would have looked back on my Annie Oakley days and laughed. Those Indians we learned about in school and on TV were the white man's version.
Now we have novels written by Native Americans but Little Big Man may have been a bridge to that. In it you can learn quite a bit about the views and ways of the peoples whose lands we stole. Though it was perhaps an inevitable historical progression, I feel it was a loss to humanity that continues to play out in our post colonial times. Little Big Man may be the most enlightening and entertaining Western I have ever read.