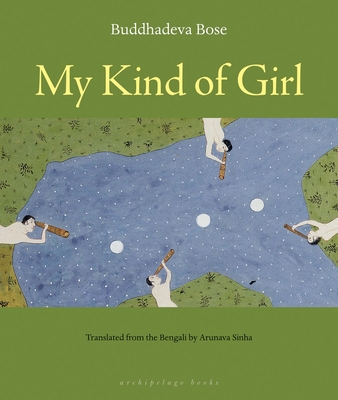 My Kind of Girl, Buddhadeva Bose, Archipelago Books, 2010, 138 pp (originally published in India, 1951, translated from the Bengali by Arnuava Sinha)
I have always read some translated literature in my mix of books. This year I decided to create a challenge to read one translated novel a month. I did make a list of countries, especially ones from which I had not read much, but then I remembered I had quite a stack sent to me some years ago, without charge, by Archipelago Books. Being me, I felt guilty for never having read and reviewed those so I started with the one on the top of the stack.
My Kind of Girl takes place in a cold room one December night. Four strangers have been given this room in a Bengali train station to wait out the hours while some rails are being repaired. All these men have is coffee and a few blankets.
A young couple, obviously deeply in love, maybe on a honeymoon, come to check out this room but go away. After some discussion about how these young people probably want to be alone and a bit of reminiscence about being that young and that much in love, each of these middle-aged men tells the story of his first love.
The pattern of this novella is based on the great story-cycles of the past such as The Canterbury Tales or The Decameron by Boccaccio. The difference is this is Bengali in the 1940s and the tales take place in the 1920s when India was still under British rule. It was a time when traditions concerning marriage and women were beginning to change.
Each of the four stories is as charming and various as are the ways of the human heart. Though the point of view is decidedly male, or perhaps because it is, I was captivated by this look into young men's hearts told by looking back from their older selves.
Buddhadeva Bose (1908-1974) was a celebrated and award winning writer who brought modernism to Bengali literature, as well as a translator of European literature.
I am off to a good start on my challenge.