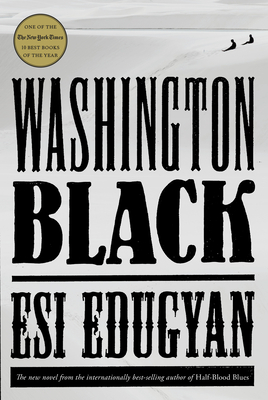 Washington Black, Esi Edugyan, Alfred A Knopf, 2018, 334 pp
Back in 2014 I read this author's amazing second novel,
Half-Blood Blues
. I said in my review that I would never forget it and I have not. With
Washington Black
she has outdone herself.
Esi Edugyan has a fine pedigree. She was born in Alberta, Canada to Ghanaian parents. Her first novel, The Second Life of Samuel Tyne, which I need to read, explores those roots. All three of her novels deal with the complex particulars of racism and their psychological effects.
Washington Black was born into slavery on a Barbados sugar plantation in the mid-19th century. All he knows is hard labor in the fields and the unspeakable brutality of the plantation owner. When he is brought into the master's house to serve the master's brother as an assistant, he experiences for the first time kind treatment from a white man. He also discovers he has an ability and passion for drawing.
Christopher, his new master, is a naturalist, inventor, and an abolitionist. The Wilde family however is full of troubled eccentrics and the safety Wash feels with Christopher is still disturbed by a constant fear of violence to himself and his people.
The plot includes the many travels of Wash with Christopher all the way through the American slave states and on to the most remote outposts of the Arctic. Wash is never secure. He is trailed by a slave catcher and then abandoned by Christopher in the Arctic. That trauma is only the beginning of his wandering and the rest of the story traces Wash's struggle to find safety for himself and his talents while he searches within himself for the reasons he has been so often abandoned.
How does the least free, the most betrayed of men find freedom? What is freedom? Can a man keep reinventing himself against all odds and find a way to heal his psyche from all he has experienced?
Esi Edugyan writes with incredible intensity and grace. Her sensitivity to human feeling is as deep as, if not deeper than, many authors I have loved. She has filled in her picaresque frame with truth and took me on another journey I will not soon forget.