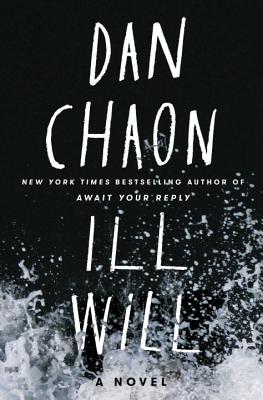 Ill Will, Dan Chaon, Ballantine Books, 2017, 458 pp
Summary from Goodreads:
Two sensational unsolved crimes—one in the past, another in the present—are linked by one man's memory and self-deception in this chilling novel of literary suspense from National Book Award finalist Dan Chaon.

"We are always telling a story to ourselves, about ourselves," Dustin Tillman likes to say. It's one of the little mantras he shares with his patients, and it's meant to be reassuring. But what if that story is a lie?

A psychologist in suburban Cleveland, Dustin is drifting through his forties when he hears the news: His adopted brother, Rusty, is being released from prison. Thirty years ago, Rusty received a life sentence for the massacre of Dustin's parents, aunt, and uncle. The trial came to symbolize the 1980s hysteria over Satanic cults; despite the lack of physical evidence, the jury believed the outlandish accusations Dustin and his cousin made against Rusty. Now, after DNA analysis has overturned the conviction, Dustin braces for a reckoning.

Meanwhile, one of Dustin's patients gets him deeply engaged in a string of drowning deaths involving drunk college boys. At first Dustin dismisses talk of a serial killer as paranoid thinking, but as he gets wrapped up in their amateur investigation, Dustin starts to believe that there's more to the deaths than coincidence. Soon he becomes obsessed, crossing all professional boundaries—and putting his own family in harm's way.
As you already know, I don't mind being roughed up by the novels I read. Ill Will however came close to being too much, even for me. I admit I was already in a precarious emotional state due to real life issues during the days I spent reading the novel, but still.
It is unrelentingly dark and creepy. Adopted brother Rusty is one sick dude though possibly rightly so considering his history. The murdered parents were heavy drinkers and acted like inbred trailer trash, leaving behind three completely traumatized kids. The modern kids, sons of Dustin, and their friends are deep into drugs, including heroin! Dustin's wife dies of cancer.
Lots of killers in this story: murderers, Satanic cults, drugs, cancer. So many characters confused about identity. So many lies. The writing is good enough though sometimes I felt more like I was reading overwrought Facebook posts and toxic tweets than reading a novel.
I get it. There is an underbelly to our culture, living right next to us, even in our towns and neighborhoods. Psychological thrillers and mysteries can take us away from the dull, monotonous days of repeated chores and duties. What if there is no redemption but only more death, confusion, and damaged people? Without a shred of humor?
I was impressed with the author's previous novel, Await Your Reply, so was anticipating this new one. Dan Chaon, you may have gone too far.