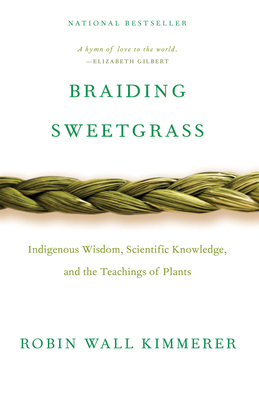 Braiding Sweetgrass, Robin Wall Kimmerer, Milkweed Editions, 2013, 386 pp
I read this for my Tiny Book Club. The subtitle is Indigenous Wisdom, Scientific Knowledge, and the Teachings of Plants. It was a revelation.
Robin Wall Kimmerer is a descendant of the Potawatomi Nation, raised on the stories of her tribe. She went to college and trained as a botanist because, as she told her advisor in her freshman intake interview, in answer to his question, "So, why do you want to major in botany?": "I told him that I chose botany because I wanted to learn about why asters and goldenrod looked so beautiful together."
At that moment came the collision in her life between modern science and indigenous wisdom!
Sweetgrass, called wingaashk in the Potawatomi Nation, is an honored and much used plant. The word means the sweet-smelling hair of Mother Earth. Kimmerer uses it as the metaphor for her book, braiding the stories of her people, the development of herself, and the depredations of the white European settlers whose descendants now rule this land, into a heartfelt plea for more understanding.
I sat down and began to read the book. Within a few pages my mind wandered, I felt bored, I had the urge to turn to social media or play Solitaire. I made it through ten pages. Reading group meeting was only a week away!
This went on for several days. Eventually Ms Kimmerer and I came to an understanding. I would read one chapter a day, she would be granted my attention for that long. It became for me something like the way some people read a devotional piece or Bible excerpt or psalm daily. Amazing changes came over my mind, my perceptions, my world view.
I have seen reviews of this book where readers complain that it is too poetic or even incomprehensible. I get it! This is a voice from another culture attempting to translate a sensibility about the true reciprocative relationship with the natural world that 21st century people will have to adopt if we want to remain living on our very own earth.
Have you ever spent time thinking about life without fossil fuels? I have. How could this world ever give that up? We are addicted to the very practices which are destroying our health and our home.
To read this book, I had to slow down, leave the time stream of my daily life. Eventually I became aware that my perception was changing, that I was observing life differently. I admit I haven't stopped driving my car, but I became aware that due to her way of presenting ideas this is a very subversive book. Exxon, etc, if they knew about it would have it banned. Our current administration would try to have it banned.
Indigenous wisdom is something modern life has lost and buried, but science is not evil. Robin Wall Kimmerer has spent her adult life in efforts to connect the two. Of course, one could not command or force a climate change denier to read it. I think a teacher of biology or botany or social studies could get her class to read it though. A college or university could make it required reading for graduation.
This morning I saw a video clip on Twitter of a bison crossing a road in a National Park. We could still save ourselves a lot of suffering and this book could well be a how-to manual. Because of reading it I now am aware of and honor the many groups of our indigenous peoples who are doing their utmost to bring back the lost wisdom of the land and plants, who only wish us a long, prosperous, and happy life on Planet Earth.
I recommend, no I urge you, to check out what this book has to offer for the future.