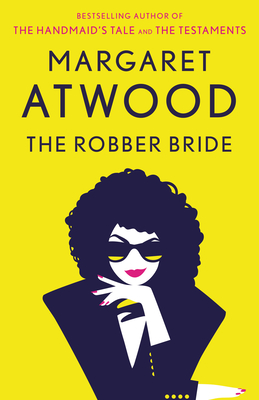 The Robber Bride, Margaret Atwood, Nan A Talese, 1993, 528 pp
Do you have a nemesis? Or have you had one at some point in your life? I currently have a nemesis who also clearly feels that I have been her nemesis.
The Robber Bride is built around a nemesis named Zenia. She is a complex character who fits both definitions of the word: 1) "one that inflicts retribution or vengeance" and 2) "a formidable and usually victorious rival or opponent" Merriam-Webster.com.
Zenia's special power is stealing men from the women who love them. She is a con woman who outdoes Patricia Highsmith's Talented Mr Ripley. Her victims in The Robber Bride are three women, all quite different from each other, who met in college and have bonded through the years over Zenia's predatory actions.
The novel begins a bit slowly as Atwood builds the back story and character of each woman, then takes off and never lets go as the three victims engage Zenia in battle.
The author is as brilliant as she always is because, 1) she knows her classics so well (the novel is loosely inspired by the Grimm's fairy tale, The Robber Bridegroom), 2) she is so facile at moral ambiguity (neither Zenia nor her three victims, nor the men she poaches are completely wonderful or horrible), and 3) she has a sense of humor that does not quit.
I first read The Robber Bride in 1998, an astonishing 22 years ago. I was not a blogger then but I had started a reading log in 1991. Looking back at that I saw that I found the novel good but had a problem with the ending. This time I read it for a reading group. I loved it unconditionally and understood why she ended it the way she did.
I would say that if you have a nemesis (def #2) or wish to become a nemesis (def #1), The Robber Bride could serve as a handbook. Recommended for all readers of any sexual orientation or age.