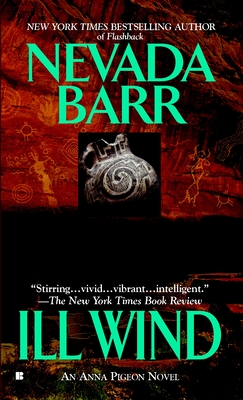 Ill Wind, Nevada Barr, G P Putnam's Sons, 1995, 309 pp
This was the third mystery by Nevada Barr, all set in United States National Parks. Ranger Anna Pigeon is now posted in Colorado's Mesa Verde National Park located amid the preserved cliff dwellings of the ancient Anasazi native civilization. Those ancestors of the Pueblo Indian vanished in the 12th century BC and left enough mysteries to occupy historians to this day. Barr weaves this into her own mystery.
It is summer and week after week park visitors are succumbing to respiratory attacks and having to be rescued by the rangers. One of them dies in the hospital. When Anna's fellow ranger is found dead in one of the cliff dwellings, the FBI arrives in the person of Agent Stanton.
Anna had been forced to work with Stanton in the last book, A Superior Death, where to say that they did not hit it off would be putting it mildly. Now Anna is more haunted than ever by her personal demons and Stanton becomes a good friend to her as they work together to find the killer.
Another of the park personnel is a woman who holds strong beliefs in New Age theories about the Anasazi. A strange phenomenon of mist and winds has been appearing on a weekly basis all summer. This woman is convinced it is being caused by spirits who deplore mankind's depredations around the park, as construction is being done to upgrade some of the park's crumbling infrastructure.
Once again the author combines the internal problems of the National Park's administration as well as the quirks of the Mesa Verde crew and visitors with Anna's prickly personality to create a complex mystery. I have been to the New Mexico section of the cliff dwelling ruins and could picture the locations, the weather and the skies in and under which Anna finds herself.
The book gets off to a jagged start as we meet the characters, not one of which is admirable. We also learn why Anna is there and how her situation has become less stable than ever. The cast of characters seemed larger than in the two earlier books. All of that made for quite a few confusing chapters. I was worried Ill Wind would be one of the duds that mystery series writers sometimes have.
Once the murder has been committed though, the story takes off and comes to a stunning conclusion. All the clues were there and I had to admire how she did it. All I will say is that ill wind was man made and justice was done.