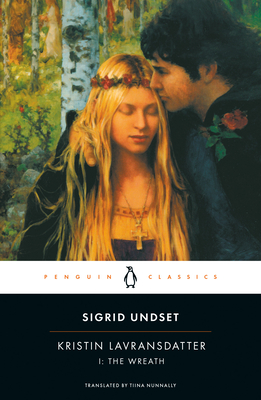 The Wreath, Sigrid Undset, Penguin Classic, 2005 (originally published in 1920, translated from the Norwegian by Tina Nunnally, 1997) 291 pp
The Wreath, written by 1928 Nobel Prize winner Sigrid Undset, was published in Norway in 1920. It is the first of a trilogy called Kristin Lavransdatter, set in 14th century Norway. I read it for my Tiny Book Club. First translated into English by Charles Archer in 1923, a new translation by Tina Nunnally published in 1997 is now considered a much improved rendering of the book into English.
I liked The Wreath but I did not love it. Kristin herself is one of literature's great bad women. She had been betrothed by her father to a man who would bring land, wealth and stability into the family, as was the custom in the 14th century. Before the marriage can take place, Kristin falls passionately in love with a fallen knight, Erlend Nikulausson. They consummate their passion when a young Kristin is spending a year in a convent, supposedly to calm her down before her marriage. By the time she manages to convince her family to release her from the betrothal and allow her to marry Erlend, she is secretly pregnant.
The Wreath introduces the wild and beautiful world of Norway at that time. When the story opens Kristin is seven and goes on her first journey outside the valley where she was born. She adores her father and he her. Lavrans Bjorgulfson and his wife Ragnfrid had lost child after child, leaving Ragnfrid permanently depressed. When Kristin came along and managed to live, Lavrans became besotted with his daughter but Ragnfrid could never dare to give her love to another child she might lose.
Hard as it is to imagine being a daughter in such an almost primitive culture, the author makes sure you experience all of it. I kept thinking of Heidi while I read. Also Hild by Nicola Griffith. Religion plays a huge role with Christianity and ancient pagan beliefs competing daily in the lives of these people.
Despite all of it entrancing elements, I was not wholly won over. Even after discussing the book with my book club members. The Middle Ages comprise 1000 years of not one thing good for women. Compared to then we have indeed come a long way. The only thing easier for a woman then was to become a fallen one and the repercussions were dire in the extreme.
Sigrid Undset certainly brings to life all the subjection but she also has a rather too obvious mission that included ideas such as passion trumps all and women are people too. Kristin suffers unbelievably in this tale though she does finally marry her true love. I was not completely convinced by this character. It is so clear that marriage to Erlend is only going to bring her more suffering that I do not feel at all compelled to read the second book in the trilogy, The Wife.
If I had read The Wreath back in the 1980s when I first read The Mists of Avalon, I think I would have loved it and gone on to finish the trilogy. Sometimes, timing is everything. I have to credit Sigrid Undset for taking on a subject that before 1920 had mostly always been written about by men in Western Europe.