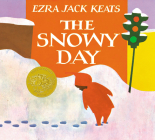 Shop Indie Bookstores
The Snowy Day,
Ezra Jack Keats, Viking Books, 1962, 28 pp
THE SUNDAY FAMILY READ
In 1937 the American Library Association created The Caldecott Medal to recognize the preceding year's "most distinguished picture book for children." It is awarded to the illustrator. As part of My Big Fat Reading Project, I read the major award winning books of each year's list. In 1963, there were only six major awards in the United States. (As of 2017, I include 21 award categories!)
Ezra Jack Keats won the Caldecott Medal in 1963 for The Snowy Day. In keeping with the Civil Rights movement of the 1960s, it was the picture book that broke the color barrier in children's publishing. Keats wrote the prose and created the illustrations.
Peter, a black child, wakes up one morning to find that snow has fallen. He has breakfast and then dons his snowsuit and ventures out to see the snow. He observes his footprints, he knocks snow off tree branches with a stick, he watches the big boys having a snowball fight but feels too young to join them, slides down a mountain of snow, and so on.
I have read this book to many toddlers including my sons. I grew up with snowy winters. It was a pleasure to revisit the story on a 90 degree May day in southern California.
Ezra Jack Keats was born in 1916 in the Jewish quarter of Brooklyn, the son of Polish immigrants. He grew up to make his living as an illustrator. He created Peter saying, "None of the manuscripts I'd been illustrating featured any black kids...My book would have him there simply because he should have been there all along." The Snowy Day made him famous.
(
The Snowy Day
is available as a board book on the shelves at
Once Upon A Time Bookstore
. It is also available paperback and hardcover by order.)