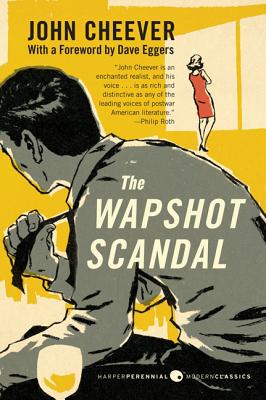 The Wapshot Scandal, John Cheever, Harper & Row, 1964, 302 pp
(Well, I am back. My husband, who has always been lucky, has recovered well. We have adjusted to a new normal involving a few tweaks on our lifestyle. Honestly, I think it took me longer to recover from all the worry and stress than it took him to recover from what happened to his body. It could have been so much worse and I am filled with gratitude to whoever or whatever watches over us.)
The Wapshot Scandal
was John Cheever's follow up novel to his National Book Award winner,
The Wapshot Chronicle.
I truly enjoyed the earlier novel. This one still had a sort of humor but was darker. It is set in contemporary early 1960s New England, several decades later than the end of the former novel. Life has become more troubled even though prosperity has been brought by the postwar boom.
The Cold War, the threat of nuclear annihilation, hangs like a miasma of anxiety over the two Wapshot brothers. It festers as a deep ennui for their wives. The matriarchal great-aunt of the Wapshot family, whom the brothers are counting on for a large inheritance, failed to pay her income tax and stands to lose her fortune to the IRS.
I think Cheever did nail the underlying zeitgeist of the times. Though the Wapshots were always a bit outside the laws and conventions of their late 19th and early 20th century New England society, these brothers and their wives are stuck between an unthinkable future and the realities of their present. The wives want passion, freedom and a purpose. The men don't seem to know what they want.
Cheever writes in a readable style and it is impossible not to be drawn in. I remember my parents and their friends discussing the state of the world and society when I was in high school. Cheever brings those same issues to life through his characters, their anxieties and actions. His story is grim at times but also made me laugh while I groaned.
I left for college and adult life in 1965, determined to get what those wives wanted, to stop war and the bomb, to find the purpose of my life. In this novel, I found yet another conception of what I left behind.