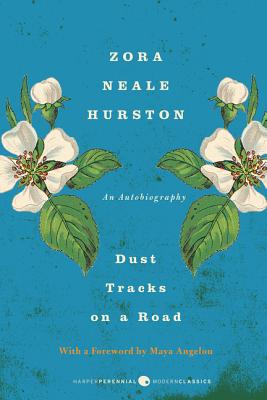 Dust Tracks on a Road, Zora Neale Hurston, J B Lippincott, 1942, 308 pp
This was my second time reading the incredible Zora Neale Hurston's autobiography. I first read it in 2003 as part of the 1942 list for My Big Fat Reading Project. This time I read it for a reading group. I loved it both times.
Hurston was at the height of her career in 1942. She had published several novels including Their Eyes Were Watching God and she was riding high as one of the few female authors among the Harlem Renaissance phenomenon. Little did she know that her life was about to change and the world was going to leave her in the dust tracks. It was not until Alice Walker resurrected her writing in 1975 that she started to be read again.
Zora Neale Hurston had a burning desire for story. She read her way out of poverty and seemed to find people who wanted to help her along all through her teenage and adult years. She never rejected that help whether it came from Black or white people, but made the most of it.
Her life was not easy but her spirit was one of tremendous buoyancy, allowing her to bounce back, reinvent, find friends and never dwell on her troubles. This comes across in her writing which is insouciant and rambunctious. My troubles have been nothing in comparison but I have been blessed with that trait of bouncing back, so I felt a kinship with this woman throughout both readings.
I suppose due in part to the increased awareness and discussion about racism still being such a trouble in our country, reading the book this time I noticed her views on all that even more. Those views were so balanced with heart and humor. I understood how much her studies, her travels and her experiences contributed to her understanding of people in general.
If you have never read
Dust Tracks on a Road
, I recommend it. If you have, let me know how you felt about it. The Bookie Babes all felt positive towards it. Somehow our deep and long discussion did not leave us feeling discouraged or helpless but in a sort of awe about human beings. Seventy-seven years later Zora Neale Hurston reached through time and did that to us.