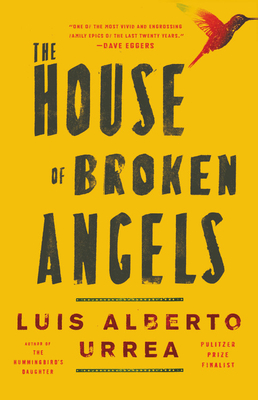 The House of the Broken Angels, Luis Alberto Urrea, Little Brown and Company, 2018, 321 pp
This family story about Mexicans living in the United States turned out to be much better than some reader reviews had led me to expect, though many critics praised it. Luis Alberto Urrea, a Mexican/American writer whose roots go deep into Mexican history, is I think one of the better authors we currently have. Especially when it comes to the Tijuana border situation and the immigrant experience.
The "Angels" of the title are the patriarch Miguel Angel de la Cruz, known in the family as Big Angel, and his half brother, known as Little Angel. The Angels share a father who had two wives, one Mexican and the other American.
Big Angel is on his death bed. (Death bed novels have been cropping up quite a bit for me lately, causing me once again to name a genre: Death Bed Lit.) This current head of the family wants one last birthday party and summons all the disparate branches, siblings and offspring of his father's far-flung people.
Over the course of two days they assemble and their complicated history becomes known to the reader as they tell their stories. Most of them live in and around San Diego, the California city that practically sits on the border, that encompasses a wide diversity of economic strata and racial combinations.
So, with equal parts humor and tragedy, love and hate, family ties and turmoil, I got yet another understanding of the forces that drive people to reach for opportunity, happiness, safety and love. Also the prices paid and the schemes gone wrong.
The novel is not a polite story. Big egos, infidelity, wayward youth, drugs, sex, heroism, and violence fill the pages. If you have a nice polite family background composed of upright people with admirable values, you will either experience discomfort or receive an entertaining yet compassionate look at men, women and children who have gambled everything to live in Los Estades Unidos.