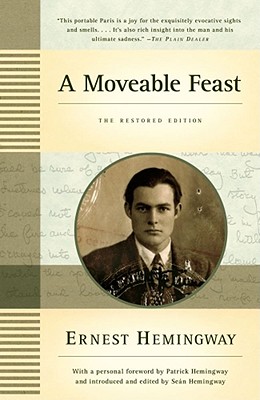 A Moveable Feast, The Restored Edition, Ernest Hemingway, Scribner, 1964/2009, 225 pp
I have a mixed relationship with Ernest Hemingway. I have only read four of his novels. For Whom the Bell Tolls (1940) was my favorite and I liked The Sun Also Rises (1926) pretty well. Across the River and Into the Trees (1950) was a bit misogynistic and repetitive for me. The Old Man and the Sea (1952) won a Pulitzer Prize, is revered by critics, literature professors and other serious readers. I was underwhelmed by a story that told an eternal tale about life being tough with the only fun being hunting/overcoming the elements.
I have also read Paula Hawkins's The Paris Wife, in which she paints him as a cold-hearted, self-involved womanizer. So why should I take this guy seriously?
A Moveable Feast is another book loved by Hemingway fans but when it came up on my 1964 list I was going to blow it off. I am glad I didn't.
It is a memoir, published posthumously after the author's suicide in 1961. His working title had been "The Paris Sketches," written between 1957 and 1959. He was looking back on his early years as a writer in Paris during the 1920s.
When Hemingway died his publishers at Scribner were still awaiting an introduction and the final chapter. So A Moveable Feast as it was originally published in 1964 was compiled by editors. I read the later "Restored Edition" with omitted material reinserted by Patrick Hemingway, a son from one of the author's four wives, and Sean Hemingway, a grandson.
Who knows what Ernest himself really wanted in the book? He opted out by ending his own life.
I am glad I read it though because I got at least a version of Hemingway's own and how he felt about those years. He had regrets about his treatment of all his wives, admitting that he was deficient as a husband. He includes what to me are revealing accounts of his friendships and acquaintances in the Paris years: Gertrude Stein, Sylvia Beach (founder of Shakespeare and Company Bookstore), Ford Maddox Ford, Ezra Pound, F Scott Fitzgerald and others.
He goes into detail about his writing process in those years and the many, many books he read. It was easier to live in poverty then, he thought. Well, I feel that way about the late 1960s. It is always easier to live in poverty when one is young, in love, and not yet a parent.
But I saw that he and his first wife Hadley were quite in love, even though he did use her as a bed partner, a secretary and almost a servant. They had fun skiing in the Alps back when there were no chair lifts. Hemingway believed that climbing up those mountains made one's legs so strong that you could not possibly break them skiing down!
I am still not sure I trust the man but reading A Moveable Feast reminded me that behind or inside every artist is just a human being with weaknesses, foibles, self-doubts, and mistakes made. Most people merely live the best they can (or don't.) Artists rise above all that and produce lasting creations that attempt to make sense of it for the rest of us.